Co-Principals' Welcome


The education of your child is one of the most important decisions you will make as a parent and we are delighted that you are considering Sir Christopher Hatton Academy.
Formed in 1983 our mission is to 'Aim for Excellence' in all that we do. We are proud to be the highest performing secondary in Northamptonshire, in the Top 1% of schools in the Country for the Progress 8 measure, graded Ofsted 'Outstanding' and a World Class School.
These accolades are attributable to the dedication and hard work of the students, staff and parent partnerships which we call 'Team Hatton'.
We are focused on the 'whole child' and with outstanding teaching, a dedicated pastoral team, creative curriculum and a wealth of extra-curricular offerings, trips and visits this means that every student is given the best opportunities to ensure they thrive.
Sir Christopher Hatton are also helping to lead the education system through its work as the lead school of the Hatton Teaching School Alliance, and as the lead sponsor school of Hatton Academies Trust.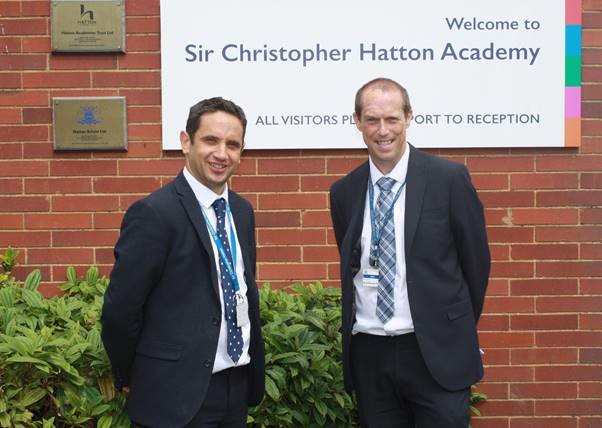 Mr N Salisbury - Mr A Mitchell
We are enormously proud to be Co-Principals of our thriving school community. Our day to day academy is filled with students participating in music, arts and drama, sports clubs as well as engaging lessons across a varied curriculum, which combined create a vibrant and hugely successful Academy.