Character Education
At Sir Christopher Hatton Academy, we believe that having good character is essential in the pursuit of excellence. Our fifteen Hatton Character Qualities are directly linked to our Academy's five values:

| | | | | |
| --- | --- | --- | --- | --- |
| Resilience | Open Mindedness | Courage | Responsibility | Empathy |
| Self-Regulation | Curiosity | Commitment | Team Work | Leadership |
| Determination | Creativity | Verbal Confidence | Social Intelligence | Citizenship |
We offer a purposeful and fulfilling Character curriculum designed to ensure that our students develop character qualities that will allow them to flourish in the community and beyond. We believe in preparing students for the 'tests of life' and not just a 'life of tests'.
"It is always reassuring to visit a school where values and a genuine commitment to character
education are at the core of all activities and are threaded through the 'DNA' of the school. It was
especially notable that the school's five core values had been deliberately and carefully
'deconstructed' to ensure that they can be meaningfully 'lived' by all members of the school and its
community and that character is viewed as an instrumental part of an inclusive and ambitious ethos.
It was also evident during our visit that leaders at SCHA have fostered a strong sense of community
and that the emphasis placed on 'Team Hatton' has contributed to a powerful foundation of trust,
collaboration and mutual understanding amongst staff and pupils. This has helped create the
conditions in which staff and students can flourish and where character development is an authentic
and sustained part of what it means to be a student at Sir Christopher Hatton Academy."
What is Character?
Character is who you are. It is what makes you.....you. It is what you believe in and how you act with others and when on your own. It is your values and your virtues, your moral compass.
It is important that you develop your 'character qualities' along side your academic skills because your character tells you who you are and understanding your character will help you understand where you want to end up in the future.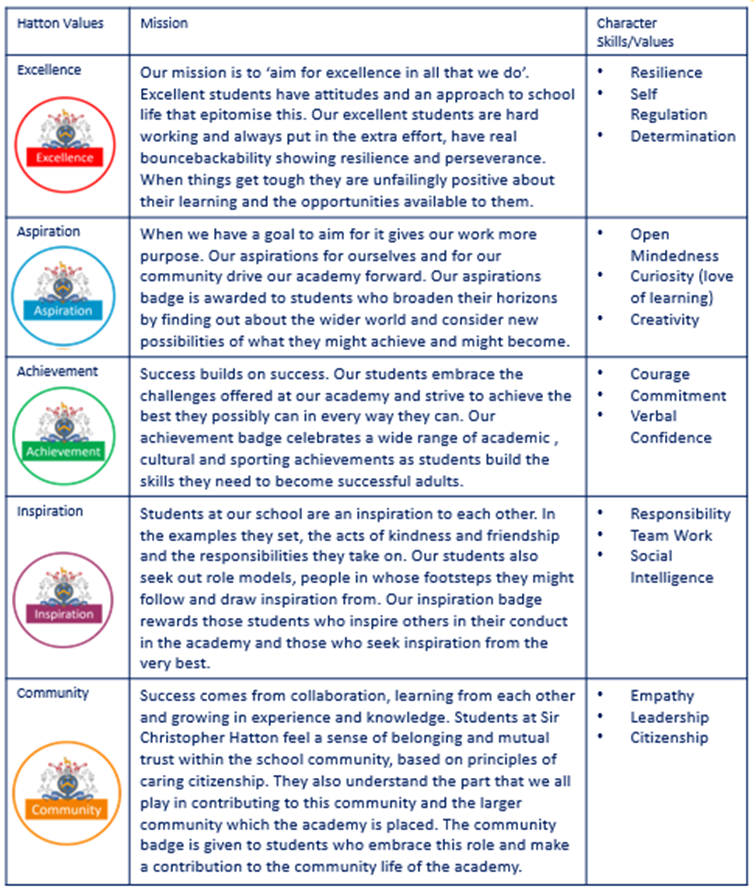 Hatton Character Qualities
The Hatton Character Qualities are:
Resilience-the capacity to recover quickly from difficulties; toughness.
Self-Regulation-the controlling of a process by yourself without the help of others.
Determination-the quality that you show when you have decided to do something and you will not let anything stop you.
Open-mindedness-willing to listen to and consider other people's ideas and suggestions.
Courage-the quality shown by someone who decides to do something difficult or dangerous, even though they may be afraid.
Curiosity-an eager desire to know something.
Creativity-the ability to exceed traditional ideas, rules, patterns, relationships, or the like, and to create meaningful new ideas, forms, methods, interpretations.
Commitment-is a strong belief in an idea or system.
Verbal Confidence- the ability to speak directly, confidently and clearly in front of others.
Responsibility-you feel that you ought to do it because it is morally right to do it.
Team Work-the ability a group of people have to work well together.
Social Intelligence-the ability to form rewarding relationships with other people
Empathy-is the ability to share another person's feelings and emotions as if they were your own.
Leadership- motivate a group of people to act towards achieving a common goal.
Citizenship-is the fact of belonging to a community because you live in it, and the duties and responsibilities that this brings.
Diversity and Empathy Project
The Diversity Project:
This is a 20 lesson rotation where we explore what diversity is and the protected characteristics. Wellingborough is a multicultural town which means that you have exposure to a wealth of diverse and cultural backgrounds. Sir Christopher Hatton is a large secondary school and as such there are staff and students that belong from all walks of life, not only in terms of race and religion but also sexuality, gender identity and a variety of disabilities. It is essential that the school is inclusive and that everyone feels they can thrive within this community which is why learning about diversity is so important. There are some amazing role-models that we will explore as part of The Diversity Project, that have paved the way for an inclusive society that embraces differences. By demonstrating open-mindedness, curiosity, responsibility, empathy and citizenship during these lessons you will be helping to grow a more inclusive community that celebrates difference.​​
We will be creating our own Amazing Diversity Trailblazer stories to present to the class. These will be exciting stories about people we feel have made a positive difference for people in the diverse world around us. These could be historical figures or modern heroes .
The Empathy Project
The Empathy Project:
Throughout this 20 lesson rotation we are learning about…you. How your emotions guide you, how to understand other people's emotions and how to put yourself in their shoes, this is called empathy. We will work towards creating our very own Empathy Museum. The Empathy Museum has a roaming exhibition called 'A Mile in my Shoes' where visitors are given a pair of shoes and a story, they walk in the shoes whilst listening to stories from people all around the world to explore our shared humanity. The stories cover different aspects of life from loss and grief, to hope and love and take the visitor on an empathetic journey as well as a physical one. With the pair of shoes you are given you will create and present a story that provokes empathy in your audience.