Sir Ian McKellen Visit
Read more and view our pictures here....
As the Country's first Stonewall Gold Award winning school we were delighted to welcome Sir Ian McKellen, Stonewall Ambassador and Founder, to meet the staff and students at the Academy.
Sir Ian started his visit with lunch and a Q&A in the school's library with students from the Peer Mentor team and the staff who are involved with inclusion. Sir Ian was interested to hear about how Hatton deals with inclusion for LGBT students and staff over lunch and homemade rhubarb crumble, handpicked from John Barker anti-bullying co-ordinator's garden!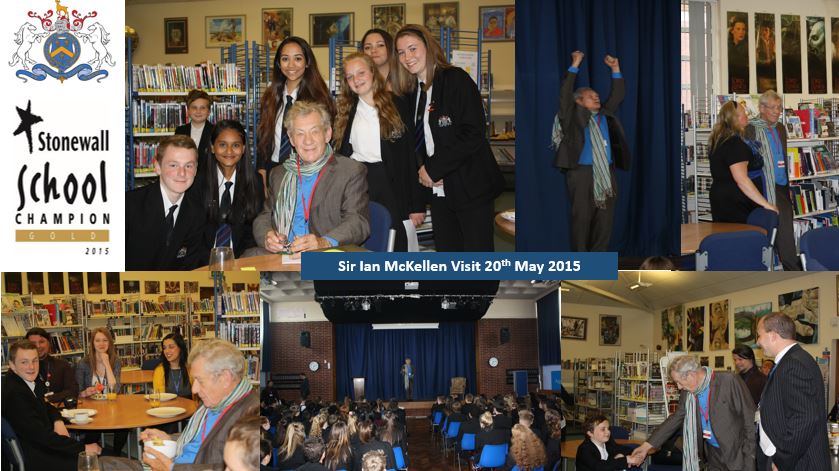 Sir Ian then had a guided tour of the academy by students and the school's learning mentors, the students that he met on the way were start struck as they took their selfies and were greeted personally by him.
Finally Sir Ian did a speech, Shakespeare recital, sang and answered a fantastic Q&A with further selected students.
John Barker Sir Christopher Hatton Academy's Senior Teacher & Anti-Bullying/E-Safety Co-Ordinator said 'This was an historic day in Hatton's history, and recognition for the team's hard work in addressing the needs of LGBT students and stamping out bullying.'
Sir Ian McKellen said 'Sir Christopher Hatton is the best school in the Country with dealing with gay issues, which is why they have achieved the Stonewall gold award'.
We are delighted to announce that Sir Christopher Hatton Academy are to become a Stonewall training partner for other schools within the region. The training will be delivered by Hatton's outstanding team.
We are also becoming an ABA SEN/Disability Champion school where we will be delivering training for other schools in anti-bullying and inclusion for students with special needs.
Read our story in the Northants Telegraph.