Language Legends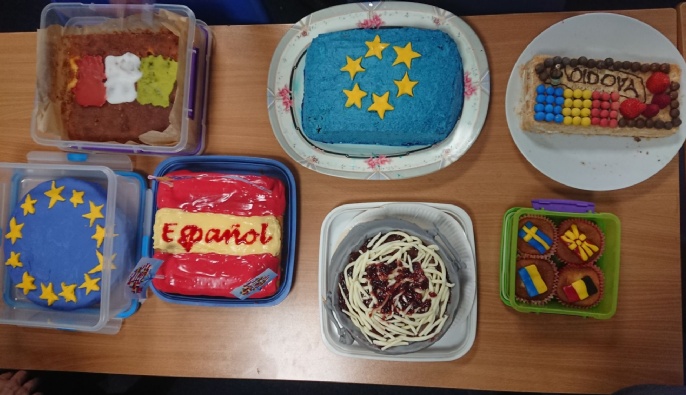 Read about MFL's Year here....
What a wonderful year we've had in the language department, with a brilliant start with Year 7's European Day of Language Eurovision Song contest, which saw all 240 year 7 students competing by singing a class song in either German or Spanish and voting for their favourite performance, with 7Y1 coming out as the Eurovision champions for their rendition of 'You've Got a Friend In Me'. This helped to hone the phonics for the language that students were learning, to support them in their oral and comprehension work as they started their journey to learning a language. We had a brilliant European Bake Off competition, with students from across the year groups coming together to demonstrate their baking prowess. We've really seen the positive impact of starting the year with this focus on pronunciation, as our Year 7s are becoming wonderful linguists.
Year 8 German students had a wonderful trip to the German Christmas Market in Birmingham, and had the opportunity to experience traditional German food such as Bratwurst and Currywurst. This is the second year that this trip has run, and allows students an opportunity to practice their transactional language skills. Thanks to Ms Welch for all her efforts in organising and Mrs Forbes for her support.
Our Key Stage 4 language classes have been going with gusto this year, with both languages having a key focus on oracy: speaking and listening. We are concentrating on supporting our language learners to feel confident in speaking the language they are learning, and giving them the confidence to speak with strangers with poise and self-esteem.
Before lockdown started, at the beginning of March, we were able to have a wonderful opportunity to take our Year 12 and Y13 Spanish students to Birmingham to see a performance, in Spanish, of one of the key texts of their A level course, La Casa De Bernarda Alba, which was a brilliant trip and really enabled our incredible linguists to see and feel the language in real time.
Here's to an even more successful 2020-2021!
Salud and Prost!