Words! Words! Words!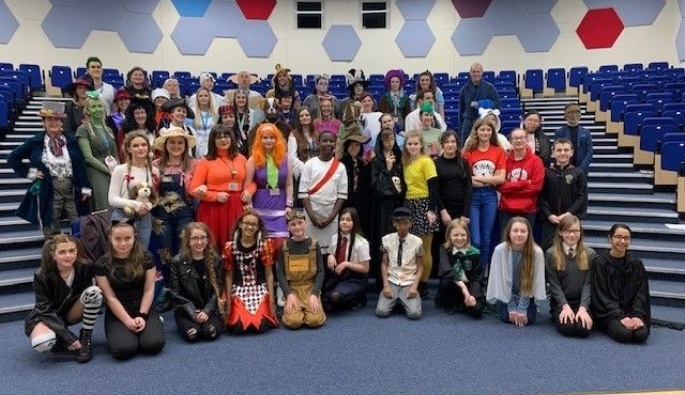 A Year in the Life of Team English......
What a year it's been for the English department with the exciting move into the W block with its spacious, airy and light classrooms. You can't fail to be inspired as a teacher and as a student within this setting.
We have hosted some really successful lectures in the new auditorium (these were optional and nearly all of year 11 attended). Pictures of these can be found on the English Dept. Twitter https://twitter.com/SCHA_English .
Before the school closure, we were preparing for a 'Performing Shakespeare' competition with the English Speaking Union (https://www.esu.org/competitions/performing-shakespeare/) with students from Y7 – Y9. Hatton were due to host one of the area finals before the Grand Final in Stratford-Upon-Avon at the Swan Theatre. This has had to be postponed but is being reorganized for next year all being well!
We launched our new Drop Everything and Read (DEAR) book rotation system which resulted in some amazing creative work from our Y7-Y9 students. These books have allowed students to engage with some really important topics such as: racism, immigration, friendship, LGBTQ rights, morality, islamophobia, friendship, bereavement, family relationships, different cultures from around the world…and there's new books coming up next year as well!
Let's not forget the trips we were fortunate to go on! We took Y10 to Milton Keynes to the theatre to see 'An Inspector Calls' live on stage and Y11 to 'Poetry Live' in Birmingham, to hear poets speak on stage.
We were treated to a visit from the spoken word poet and ex-Olympic basketball player Asma Elbadwai. She came in to our school and worked with our students on their poetry skills – what a great experience for all involved!
Of course we had our annual World Book Day with an array of costumes, this is our favourite event of the year as everyone comes together to celebrate literature.
For their extracurricular experience, students have participated in the school magazine, slam poetry, and performing Shakespeare to great success.
Across the school we linked up with the Science department to look at sci-fi literature and 'War of the Worlds'.
Currently our students are entering various creative writing competitions including: BBC '500 words' Black Lives Matter competition, Foyles Young Poets competition, and the Orwell Youth Prize
Last but not least, in the department our English teachers have been battling it out with their own reading competition with who can read the most words throughout the academic year. This has been running from September and the result will be announced on the last day of term! We look forward to sharing this with you.
An incredible year for our thriving department and we can't wait to share more with you next year. See you in September!