Celebrating the Arts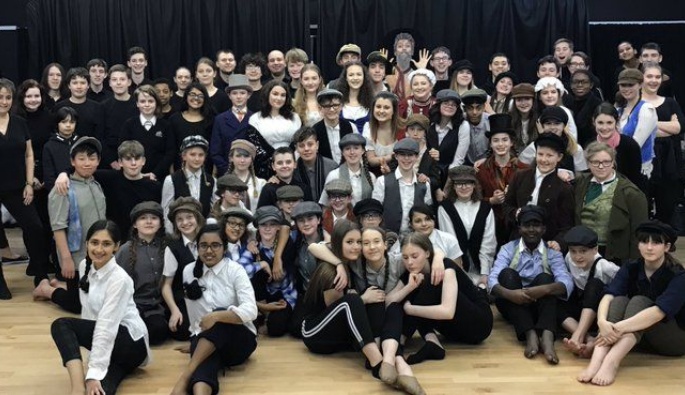 Find out what's been going on in Performing Arts this year.....
During the past academic year our department have offered over 32 hours per week of extra-curricular music lessons. These lessons cover upper strings (violin and viola), lower strings ('cello and double bass), woodwind (flute, clarinet, oboe, saxophone and bassoon), brass (trumpet, cornet, French horn, tenor horn, baritone, euphonium, trombone and tuba), percussion and drum kit, piano and keyboard, guitar and singing. These lessons have been received by over 90 students in the academy.
Throughout each academic year our performances include the Trust Christmas Concert, Spring Recital and Summer Arts Festival alongside our lunchtime recital performances.
Drama also produced two performance evenings this year with the Yr13 drama performance of "Monster" and the KS4 production of "DNA". Along with producing performances the drama department has organised trips to see "The Welkin", "Woman In Black", "Cyrano De Bergerac" and "Everybody's Talking About Jamie".
Key Stage 4 and 5 drama students have been involved in the National Theatre Play Writing competition this year. While the competition had to be cancelled Jake Stevens and Kinga Stusik were both Highly Commented by the adjudicators, and were both recommended for further workshops with the National Theatre.
Miss Whitehouse hosted the first school dance show which was a huge success. Dance students have also been to see live ballet, watching "Romeo and Juliet" performed live on stage. Dance workshops have been running regularly through the week with Miss Whitehouse working with both KS3 and older students to develop routines, skills and techniques.
The department put on a showcase for the Westfield Auditorium Grand Opening and of course we must mention 'Oliver!' which was held over 3 nights to a packed out audience. Many of the audience which included, students, parents, staff and the local community commented this was the 'Greatest show in Hatton memory'.
We can't wait to see you all next year – long live the Arts!