Head Boy and Girl Announcement 2020-21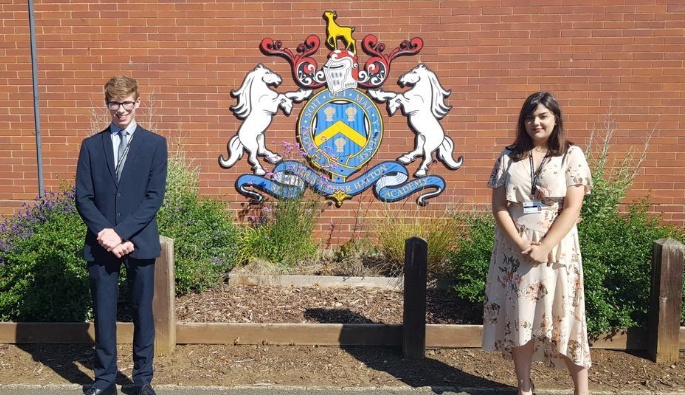 Full details can be found here.....
We are delighted to announce that Aidan Youngman and Arpana Kumari have been appointed Head Boy and Girl for 2020-21.
The position of Head Boy and Head Girl at Sir Christopher Hatton is highly valued within the school community and they are an important link between students and staff. Arpana and Aidan will play an ambassadorial role within the school which includes speaking at public events such as Open Evenings. They act as role models for the wider school community and present assemblies to all year groups throughout the academic year. In addition to this, together with the House Captains they also contribute at parents evenings and organise fund raising for charities.
Aidan has been at Sir Christopher Hatton since he joined in Year 7 and has been a consistently driven and inspiring individual. Aidan plans to study English at University with aspirations to go into teaching.
Arpana has flourished at her time since joining Sir Christopher Hatton and intends to study Philosophy, Politics and Economics (PPE) at University.
Co-Principal Mr Mitchell said 'All students that applied for the prestigious positions put a lot of time and effort into the application process and the final deliberations were tough. We are really looking forward to working with Arpana and Aidan who will lead and help support all our students as they return in September. We wish them both well in their reign as Head Boy and Girl'.
Arpana and Aidan both look forward to meeting the community, year 6's and year 11's at our future Open Evenings which will be held on:
Year 6 Open Evening
Monday 5th and Tuesday 6th October 2020
VI Form Open Evening
Wednesday 4th November 2020