Head boy & Head Girl Announcement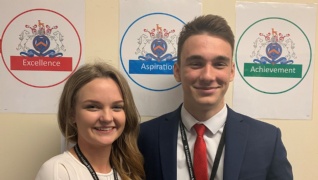 Read our exciting news here...
We are delighted to introduce from a very strong field our new Head Boy, Maciek Wolnicki and Head Girl, Georgina Scott.
Both are stand out Hatton students and excellent role models for all children across Hatton Academies Trust. Maciek is a former Oakway Primary Academy student having joined at the end of Year R speaking very little English, and he talks proudly of how far he has come with future aspirations to study a Chiropractic degree. Georgina has a strong passion for animals and volunteers at Animals in Needs with future aspirations to be a Vet and is applying to Cambridge University.
Georgina and Maciek continue the tradition of Sir Christopher Hatton Academy Head Boy / Girl, with former appointees having embarked on further studies/careers within Law, Education, Business and Politics.
All at Sir Christopher Hatton and Hatton Academies Trust wish them well for their exciting year ahead!