What a performance!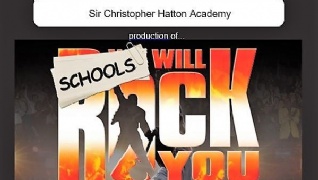 On 6th and 7th March 2019 the Performing Arts Faculty presented the Queen musical "We Will Rock You" in a version adapted for school performances.
Both nights of the performance were jam-packed with enthusiastic and excited audiences, who enjoyed a fun party atmosphere throughout the show. Both audibly and visually stunning, the production showcase the immense talent of the students at SCHA; for the finely choreographed dance routines, confident and assured vocal performances, and the epic student band the performance flowed smoothly throughout both nights. With lighting, stage and sound tech all manned by students too, this was truly a whole school production, yet the quality and professionalism was beyond a "school show" experience.
This is the first production from the new Performing Arts team and, with this as our starting point, we cannot wait to bring you more fabulous performances and productions over the coming terms and years.