Defibrillator Donation - SADS UK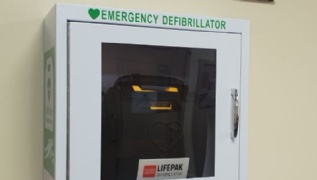 We are pleased to confirm we are in possession of an Automated External Defibrillator (AED) which has now been installed in our Main Reception Area. This has been donated to us by the charity SADS (Sudden Arrhythmic Death Syndrome UK) with funds raised by the Rust Bucket Challenge that took place in the summer, for which we are extremely grateful.
The defibrillator is lifesaving equipment that works to restore the heart rhythm if a person goes into cardiac arrest and the earlier a defibrillator is used the better the chance is of survival.
Members of the academy staff took part in Defibrillator Training also organised by SADS, see photograph below.