Careers & Enterprise Day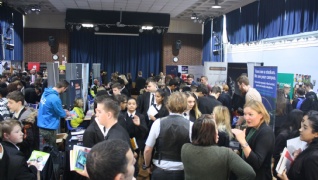 took place on Friday 7th December, read more here....
Well done "Team Hatton" on another amazing Careers and Enterprise day.
On Friday 7th December 2018 all students across the entire Academy opted in to a range of experiences suited and matched to their key stages and their career interests. Students encountered a range of employer workshops, employer talks and engaging skills based activities, with our KS4 and 5 students also having the opportunity to attend the Academy's careers fair at the end of the day.
Thanks to the hard work and commitment of a vast range of employers; voluntary organisations and educational providers we are able to offer our students the best possible opportunities to experience the world of work. Our Academy are proud to develop the whole student; with our vision to support our learners to be the best that they can be it is an important, and integral part of our strategy to provide the students with both qualifications as well as experience and skills needed to enter the world of work.
We would like to thank the volunteers that gave up their time to share their expertise and advice with our students; as well as our fantastic team of dedicated staff who supported the event. As always we are proud of our students, who as always are excellent ambassadors for the academy.
We are always looking to enrich our curriculum and the Careers Team alongside our Design Technology Faculty are looking forward to hosting our year 8 STEAM day on 8th March 2019.