The Rotary Club Peace Advocate Project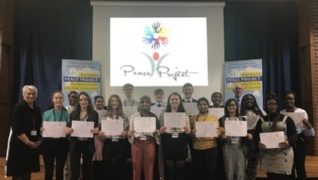 Read more about this exciting project here...
Across 2 days, over 40 students from Years 8 – 12 came together to train to be Peace Advocates within their school community. The specialist training, focusing on the empowerment of young people to have collaborative conversations with each other in order to resolve conflict and support each other, was delivered by Jean and Keith Best, backed by The Rotary Club of Wellingborough. The training focused on engaging young people on driving forward positivity amongst their peers, which is a perfect fit with our wider objective to promote and encourage kindness and respect to all, as we lead up to the national Anti-Bullying Week campaign.
Our students were delighted to take part in the first training of its kind in Wellingborough, although teaching young people conflict resolution skills through this project has so far also been delivered in other parts of the UK, Ireland, Australia, Mexico and the USA. Having previously been honoured at the United Nations as part of Rotary Day in Geneva, Jean was impressed by the level of engagement and response by the students.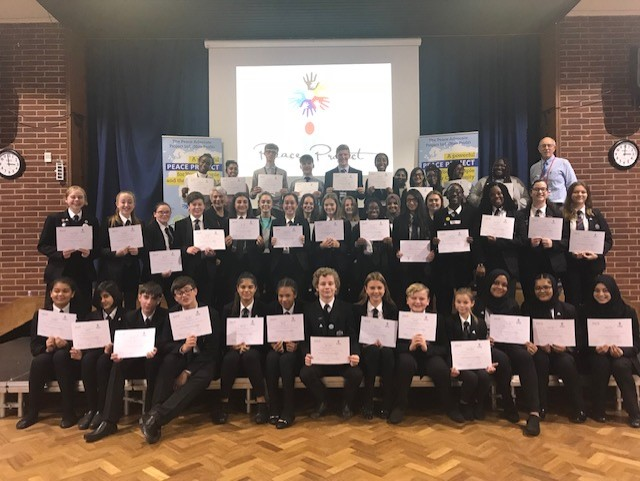 Jean said "The influence of a social media onslaught on today's youngsters is having a devastating impact. From online bullying and sexual harassment through to gang recruitment and radicalisation, the dangers of being online are real across the world. In Secondary Schools problems stemming from being online are a huge and growing issue. It's been a delight to such passion and commitment from the Students at Sir Christopher Hatton who clearly want things to be different for them." Jean is no stranger to education, having been involved with for 38 years, trying to maintain and improve attainment levels - but wanted to help "upskill" youngsters so they could then take control of their own problems.
She continued, "One in three teenagers have been a victim of cyber bullying in some form and new trends are emerging. Teachers cannot achieve their primary goal of educating students to a level that makes them ready for Work and University if they are having to spend countless hours on dealing with social rather than educational matters." The peace project was born out of the issues faced by young people today and part of the training ensured the students recognise when issues have already reached a very serious stage and therefore should be dealt with by teachers immediately. That said it is envisaged that through this project, if the students can deal with and resolve problems working collaboratively with Peace Advocates when problems first arise, it may well prevent them from escalating to a level that requires a greater level of support.
"We are committed to fostering an atmosphere of mutual respect. This project is empowering our students to be responsible, active citizens within and beyond the academy community, and we are very excited to see the positive impact it will have on academy life."
Mrs Raku, Head of School
The Rotary Club of Wellingborough have invited our Academy to become a Peace Hub for the Wellingborough Area, with the future students of the school being trained as Peace Advocates not by Jean Best or teachers at the school, but by the initial batch of students who attended last week's training which is a very exciting prospect!
With the start of Anti Bullying Week just around the corner, we are already very regularly modelling positive examples of respect to each other and are looking forward to developing this particular initiative across the wider school beyond.
Mrs Rughoober