Our YEAR 6 Open events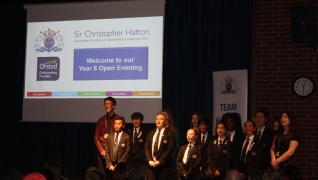 Over the evenings of 8th & 9th October we welcomed over 1300 people through the Hatton doors, to hear information about the academy by Mrs Bishop.
The evenings commenced with a performance by the Hatton Singers of 'This Is Me' our adopted Hatton anthem, an introduction by Thomas Jeffs (Year 8 student), presentations by our Head Boy and Girl, student models showing off our very smart uniform and a wealth of Sixth Formers who helped hand out goodies and answer any questions.
Thank you to all that came along to our new format evening, and we strongly encourage all that haven't done so to book an Open Day Tour – we have opened up new slots to meet unprecedented demand. The tours will take place until Thursday 18th October 2018 at the following times:
| | |
| --- | --- |
| Mondays, Wednesday & Fridays | 9.00am or 10.00am |
| Tuesdays & Thursdays | 9.30am or 10.45am |
Bookings can be made by telephoning our Main Reception on 01933 226077.
You may also wish to watch an excellent external visual tour of Hatton by Ryan Page a former student, which you can view on our Prospectus Page.