Trip Payments
The Academy's preferred payment method is the Online Payment System SIMS 'Agora', please click the logo below to be redirected.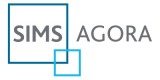 You will need to have your unique reference number handy if you haven't already activated your account. There is an Activation Guide available to download below.
Receipts will not be issued unless requested.
For financial queries please contact the Finance Office direct on 01933 221418 or email: finance@hattonacademy.org.uk.