Student Leadership
Head Boy and Head Girl
The role of head boy and girl is now very established at Sir Christopher Hatton. This prestigious and highly sought after role includes a range of activities, from overseeing the running of the house captains to delivering presentations to primary school children and being present at key Academy dates. Due to the prestige that comes with the role, students complete several steps before they attained the title such as a Hustings presentation, group task, a student panel and an interview led by 3 senior staff members.
It gives us great pleasure to announce and introduce our new Head Boy and Head Girl for 2020/21: Head Boy - Aidan Youngman and Head Girl - Arpana Kumari.
We wish them every success in the upcoming academic year. They are very excited about the new ideas and how they intend on approaching the role. We would also like to mention that the field this year was very strong and all applicants presented themselves fantastically and with real substance; they should be very proud of themselves.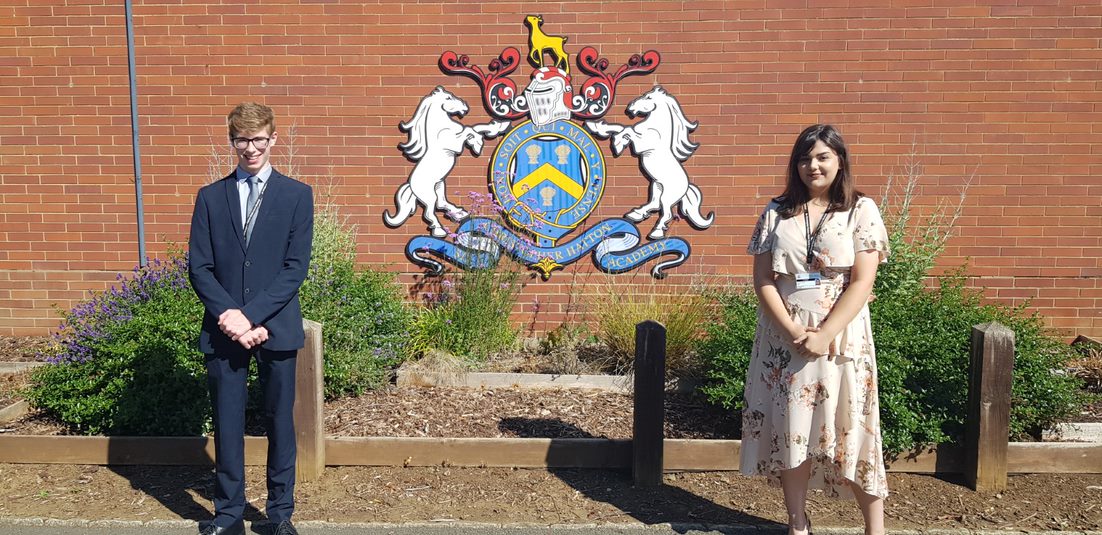 House Captains
We are extremely fortunate at Sir Christopher Hatton that we have a group of students working hard to ensure wider school involvement in the VI Form takes place and this is done through the work that our house captains do.
With regards to the house captain role, every captain has been interviewed for the role by, Darren Brookes, Head of the House System and Rebecca Heaney-Cox, Assistant Head of Sixth Form, following a letter of application. For the last few years, we have had more applications than there were positions which is a testament to our VI Formers. Captains arranged into houses and they attend weekly meetings with Mrs Heaney-Cox in which they discuss and organise upcoming events. They are also great role models for the whole school.
House Captains for 2019/2020
BURGHLEY
Christopher Price
Gidloria Allotey
Dua Rehman Iqbal
Niamh Healy
Kye Upton
DRAKE
Chloe Phipp
Akash Kumar
Arpana Kumari
Tarun Mistry
Aidan Youngman
RALEIGH
Neha Dholakia
Harry McWilliam
Erin Saddington
Leah Parris
WALSINGHAM
Hannah Burwell
Callista Quadling
Mary-Jane Galvin
William Knight
More information on the House System and House Captain Photos can be found here.