School Uniform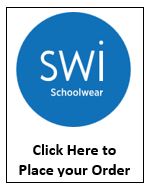 Our uniform supplier Sportswear International offers a Direct to Parents Service, please click the image to the left to be redirected to their website.
On the menu bar you will find an instruction guide from SWI explaining how to order uniform online, by telephone or by post directly.
Apologies: The SWi website is being upgraded and will be unavailable from Monday 19th November for one week. We apologise for any inconvenience. If you have an urgent requirement for uniform, please call us on 01933 226077. The service will be back to normal on Monday 26th November 2018. Thank you.
UNIFORM POLICY
Students' dress is an important aspect in reflecting our ethos of high standards of work and behaviour. Our distinctive uniform aims to give a corporate and shared appearance for students and sets the scene for a business-like approach to the academy day. We are proud of our students, their behaviour and appearance, both in and out of the academy and they are a credit to us. We intend to ensure that our standards are maintained.
We request that parents and carers support our Uniform Policy by ensuring that their child/children are appropriately dressed and support the academy in the use of sanctions for non-compliance. Compliance with the academy's Uniform Policy forms part of the Home and Academy Agreement as part of the admission process.
Parents and carers who have any financial difficulty in providing the required uniform should contact the academy.
Requirements Year 7-11
Academy blazer with embroidered academy crest - purchased via Sportswear International (see link above)
Academy clip-on tie with house colour and academy crest - purchased via the website above and main reception
Plain white shirt with stiff collar buttoned to the neck - purchased outside of the academy
White polo shirt with academy crest (optional) (summer term only) - purchased via Sportswear International (see link above)
Black academy jumper (optional) - purchased via Sportswear International (see link above)
Black knee length skirt (smart & tailored – not tight fitting or of jersey/lycra/legging material) or trousers (smart & tailored – students should not wear cropped trousers, leggings, jeggings, jeans, chinos or trousers made of denim or jersey/lycra material) - purchased outside of the academy.
A water/weatherproof outdoor coat (tracksuit tops, non-academy jumpers, cardigans and hoodies, leather, leather style, denim and suede jackets are not permitted and will be confiscated) - purchased outside of the academy
Formal black shoes (not boots, pumps, canvas shoes, trainers or sandals) - purchased outside of the academy
Requirements for Sixth Form
Sixth form students are required to wear smart business dress at all times.
Jewellery
Only small studs are permitted in the nose and/or each ear. All other visible piercings must be removed. Where excessive jewellery is worn, students will be expected to remove it. The academy recommends that parents/carers do not permit their child/children to wear expensive items of jewellery in school. The academy will not be held responsible for loss of any personal items on academy premises.
Accessories
In cold weather, scarves, gloves and hats may be worn outside of academy buildings; they must be plain black. Hair accessories/bands/bandanas should be plain black and discreet. If students need to wear a belt it must be plain black.
Hair
Hair must be cut in a formal style. Hair colour should look natural. Unnatural colours such as pink and green etc. are not permitted. Closely shaved hair, excessively spiked hair, and patterns/designs in hair are not permitted. If parents are unsure if a particular hairstyle will be permitted by the academy, please contact us prior to restyling taking place. Long hair must be tied back for practical lessons. The final decision in individual cases will rest with the Vice Principal for Pastoral Standards.
Tattoos
Under the Tattooing of Minors Act 1969, it is a criminal offence to tattoo anyone under the age of 18 years. With this in mind the academy does not expect pupils to have any tattoos. In a situation where a pupil does have a tattoo they will be asked to cover it.
Religious Dress
Religious headwear should be black and no longer than shoulder length, and must not obscure the face. Requests for other religious dress not covered in this policy should be made to the Governing Body in writing for consideration, with reasons given.
Physical Education Kit
Blue polo shirt with emblem - purchased via Sportswear International (see link above)
Black sports fleece with emblem - purchased via Sportswear International (see link above)
Black shorts with emblem - purchased via Sportswear International (see link above)
Black socks with emblem - purchased via Sportswear International (see link above)
Black tracksuit bottoms (optional) - purchased via Sportswear International (see link above)
Trainers or appropriate footwear such as football boots (purchased outside of the academy) (not pumps or canvas shoes)
Sanctions for non-compliance with academy uniform
Where the student is non-compliant, the situation will be managed in accordance with the academy's Behaviour for Learning Policy.
One or more of the following sanctions may be used:
Parents/carers will be contacted, and if required students may be sent home to adapt their appearance or parents/carers may be requested to bring the appropriate items into the academy to ensure compliance with this policy.
Students may be placed in ISE for the day, away from other students, and will be set work away from their usual classes.
If students forget an item of uniform, they will be supplied with items of loan uniform to wear for the day e.g. blazer or tie and expected to wear it. Non-compliance will result in students being placed in ISE.
Students who are loaned items of uniform for the day will be expected to complete Reflection (after school 3-4pm in A11) on the same day (see Behaviour for Learning Policy).
For persistent non-compliance, the Academy's Behaviour for Learning Policy will be applied.
Our School Uniform Policy can be found on our Policies Page. We encourage you to read our Uniform Guide for full details of appropriate uniform attire.
Ordering from Sportswear International
If you have any difficulties using this service please contact Kelly Frost, Administration Assistant, on 01933 221403 who will be pleased to help.