HATton Good News
Annual HATTON ACADEMIES TRUST FUN RUN - 16th July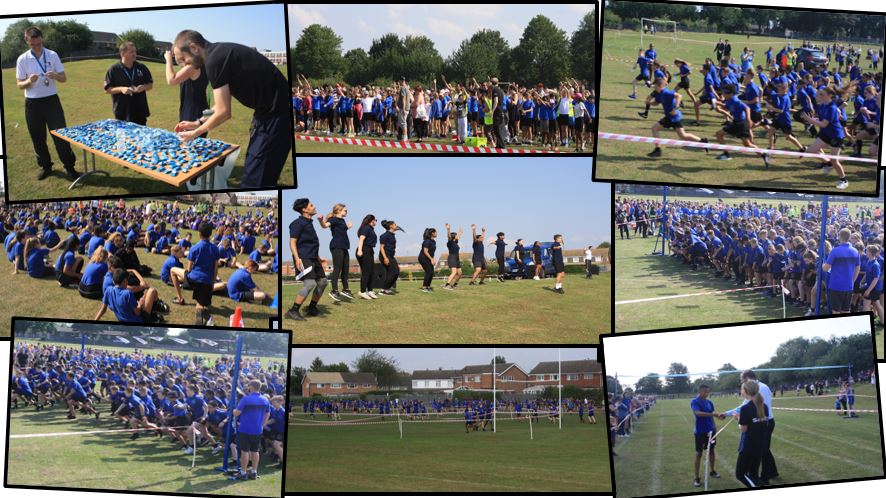 year 7 stem day
Fantastic work from Year 7 STEM day! Great activities, great students, great subjects!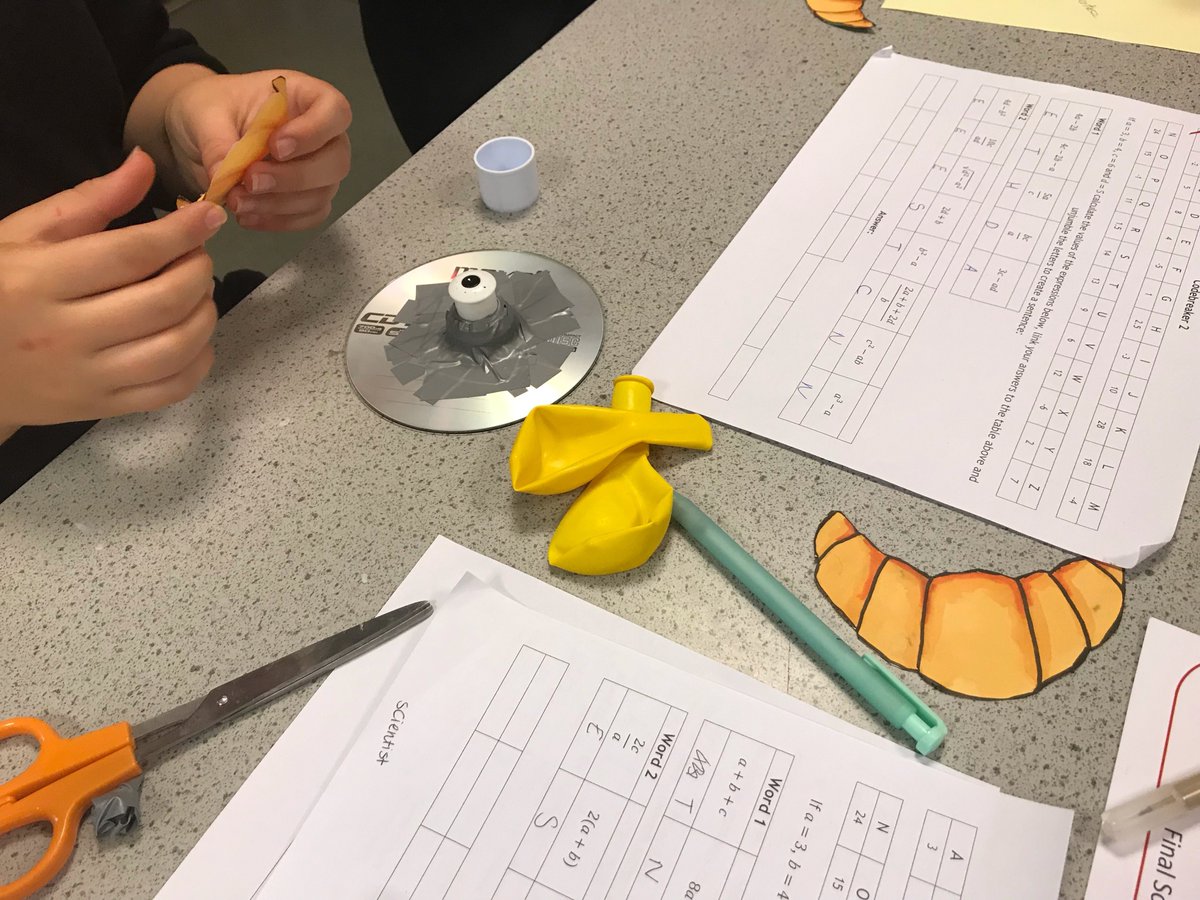 sTUDENT ACHIEVEMENTS - June 2019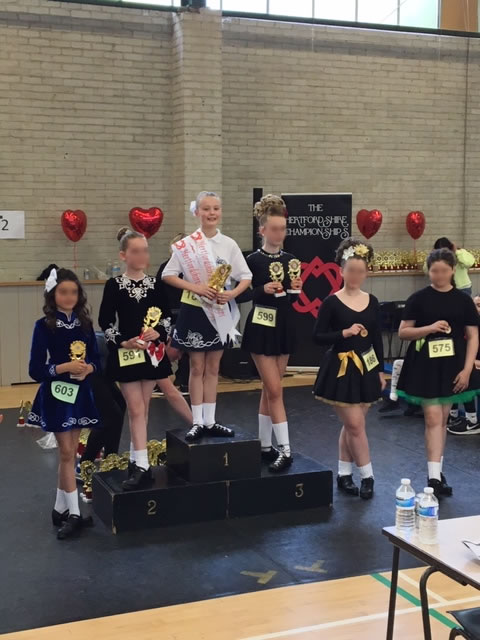 Since taking up Irish Dancing with myself in Enrichment sessions, Shannon Lyne attended the Hertfordshire Championships at novice level and won every dance she entered! Shannon won four trophies and was a joy to watch and perform. As a result she has now progressed to the next level 'Primary' in competitions. Well Done Shannon!
Mr Chambers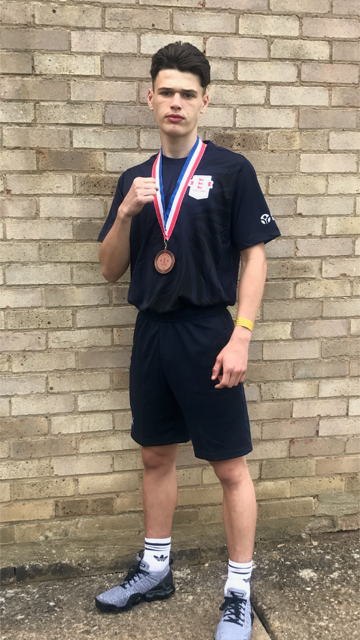 Ellis Bamsey was called up to represent England in a National Boxing Tournament in Barnsley at the weekend. After several months of intense training and a strict diet, and in only his 6th competitive fight, he achieved a Bronze medal in the competition! Ellis is extremely proud of his achievement and looks forward to the opportunity of representing his country again in the future. Well Done Ellis!
Mrs Rughoobeer
LATEST EXPANSION PHOTOS


A Visit from Mushy (educating Yorkshire)
A hugely motivational speech was given by Musharaf Asghar as part of our anti-bullying campaign and work with the Rotary Club. He inspires students to push through adversity and achieve big, no matter what!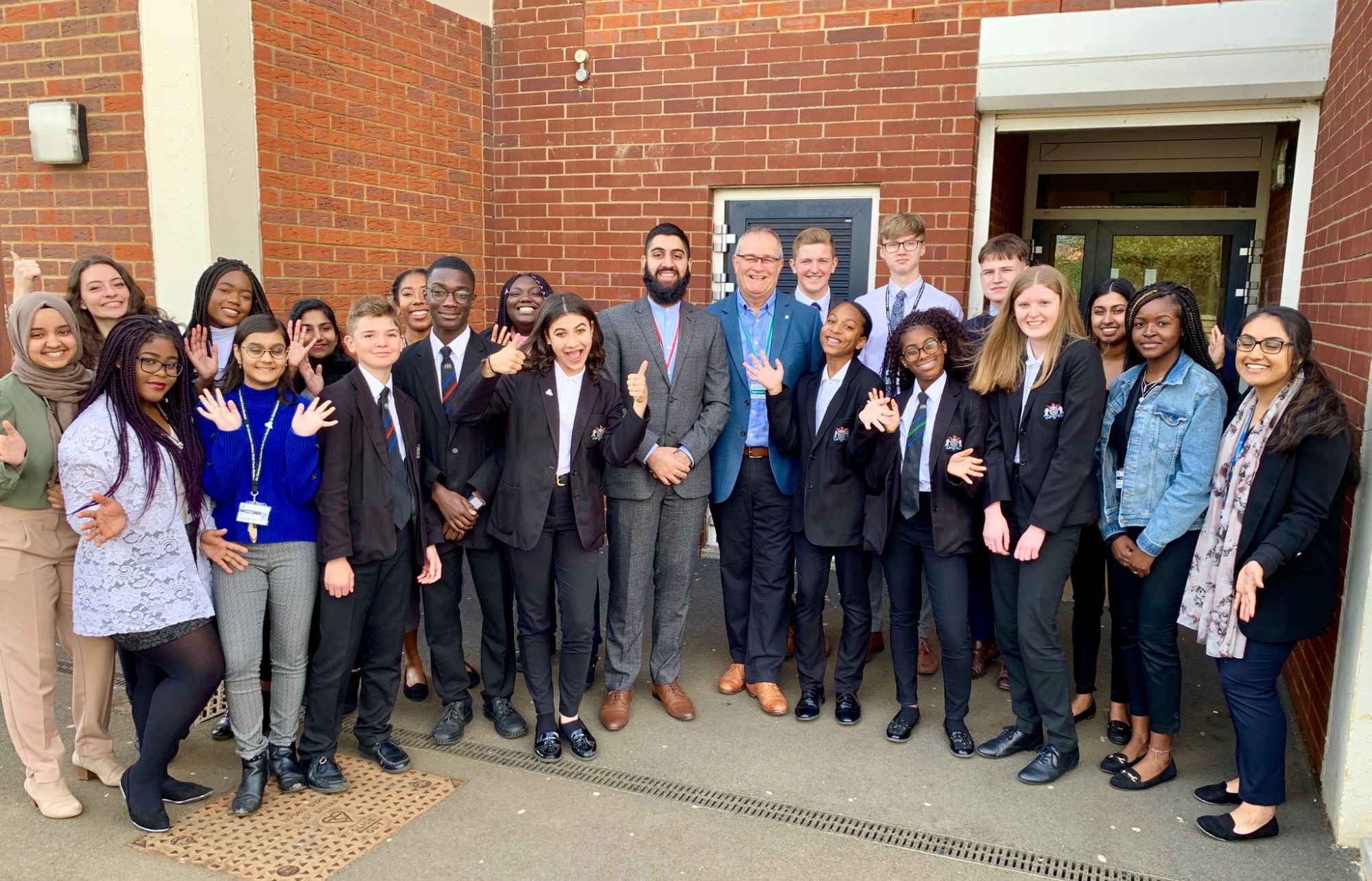 DUKE OF EDINGBURGH
On Saturday 27th April, Mrs Blake, Mr Kneeshaw, Miss Berrill, Mrs Davis and Mr Saleh gave up their entire Saturday to help me deliver D of E expedition training to this year's cohort.
As ever the staff were just awesome in the support and commitment they give. IWe had also decided to use students who had previously undertaken their Bronze to assist in delivering the training.
The student helpers were amazing – in many cases they were both confident and able enough to alternate with us adults in taking the lead in passing on the required skills in map reading, symbols, compass work, stoves and safety, menus planning and emergency scenarios.
Aidan Youngman, Georgina Scott, Neha Dholakia, Neeraj and Kieran Patel, Lace Pulley and Erin Saddington should be congratulated. Some really talented young people who should be proud of themselves.
Mr Mason
Football News
Our Yr7 and Yr9 Football teams played in the District final last night, both playing against Wollaston.
The Yr7 team drew 3-3 at full time and went on to win on penalties. Fawasi Usman was man of the match for an outstanding display out wide beating his full back every time.
The Yr9 team struggled to get to grips with the game like they normally do, the wind playing a huge factor in the game but they worked hard and came away with a 2-1 win. They have now won this 2 years in a row.
Well Done All!


NETBALL NEWS - 28th March 2019
Our Year 7 Netball Team is still undefeated in the league winning 22-0 and our Year 8's have only lost one so far winning 13-3!
Well Done Girls!


SIXTH FORM ASPIRATIONS
Our Year 12 student, Zak, recently visited Cambridge University for an engineering masterclass. Great to see our students having such high aspirations!

STEAM DAY
On Friday 8th March all year 8 students were off timetable and involved in a day working with employers and industry professionals within the STEAM sector. This was a brilliant opportunity for students to find out about the various different opportunities working within these career areas and get involved in some 'hands on' learning experiences.
After finding out about the career routes of a number of teachers at the academy, students went on to partake in 3 different workshops. Workshops were offered from employers including Volvo cars, Wellingborough Homes, Cats Protection, Thames Valley Police, and the University of Northampton. There were also interactive subject workshops offered in Art, Fashion, Hospitality and Catering, Physics, Journalism and Computer Science. Students were involved in a wide range of activities from still life art, weaving, producing architectural plans, stop and search role play, producing a magazine article and designing and making a new pizza for summer 2019!
Students were great ambassadors for the Academy, conducted themselves superbly and got fully involved in the activities offered.
A massive thanks to all the employers and staff involved in making this day a huge success, we are already looking forward to STEAM day 2020!
Mr Lane - Head of Faculty – Art, Design and Technology

MUSIC SUCCESSES - mARCH 2019
During March the Rotary Club of Wellingborough ran their Youth Music Festival. Jonathon Davies, in Year 12, has been judged to be the Wellingborough Young Musician of the Year 2019, and will be performing as a soloist in the Festival Concert and Award Presentation on Wednesday 29th March at The Castle Theatre.
On Sunday 10th March, the Northamptonshire Music and Performing Arts Trust (NMPAT) took over the Derngate Theatre, Northampton, for their first concert of the week; their aptly named Orchestra Spectacular showcased the County Junior Orchestra, County Training Orchestra and County Youth Orchestra. Hatton performers in the concert yesterday were Thomas Jeffs (County Junior Orchestra), Alessio Lala (County Youth Orchestra) and Jonathon Davies (County Youth Orchestra). If you see the boys please congratulate them on a fabulous concert, and representing the school within the NMPAT ensembles.
With such amazing performances from Hatton students over the past week it's clear that there is a huge amount of talent within the student body!
MR JEFFS - HEAD OF PERFORMING ARTS
LATEST EXPANSION PICTURES - MARCH 2019
It's coming along nicely...with internal and external walls now taking shape!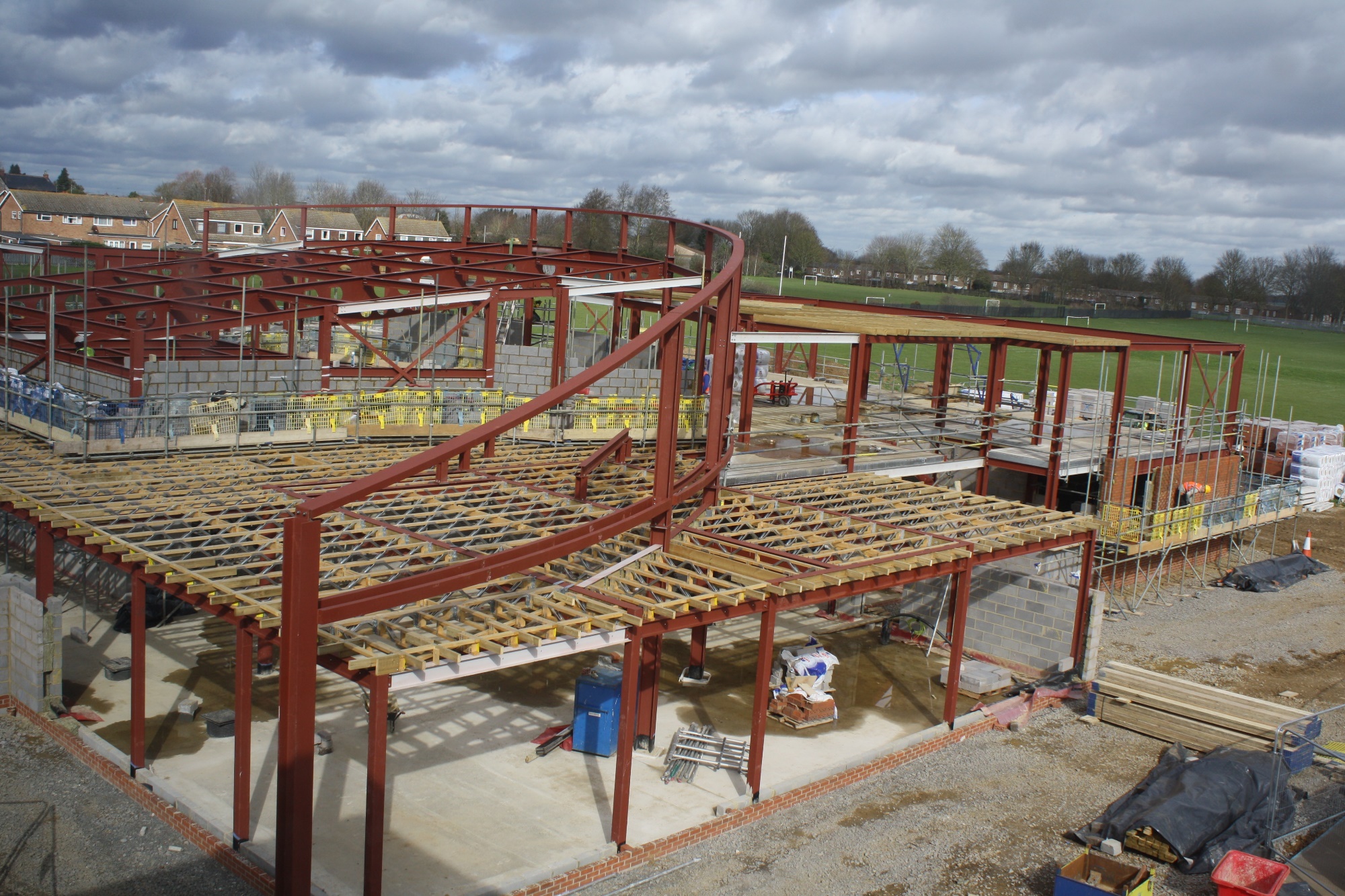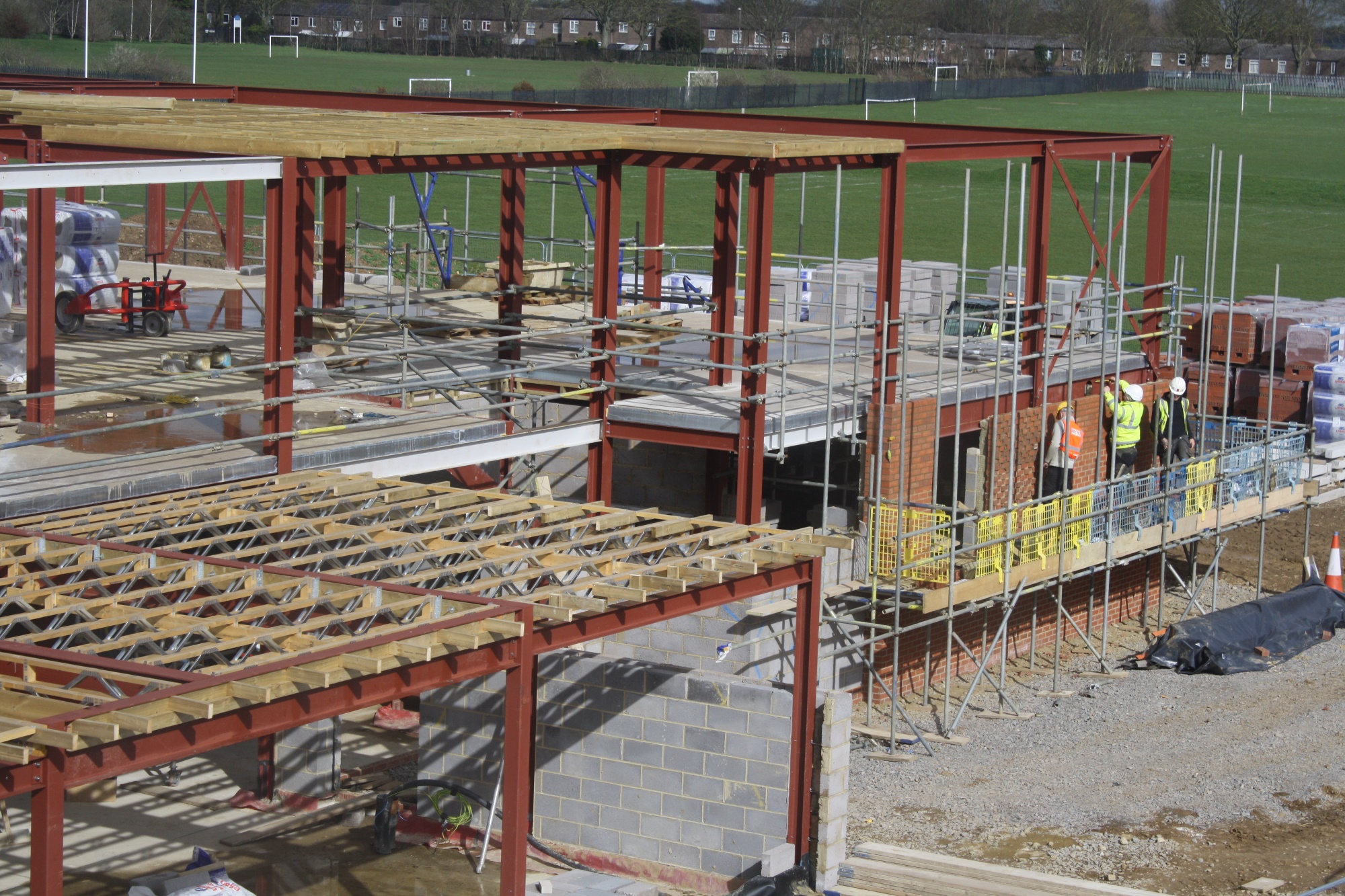 MENTAL HEALTH AWARENESS DAY - 15TH February 2019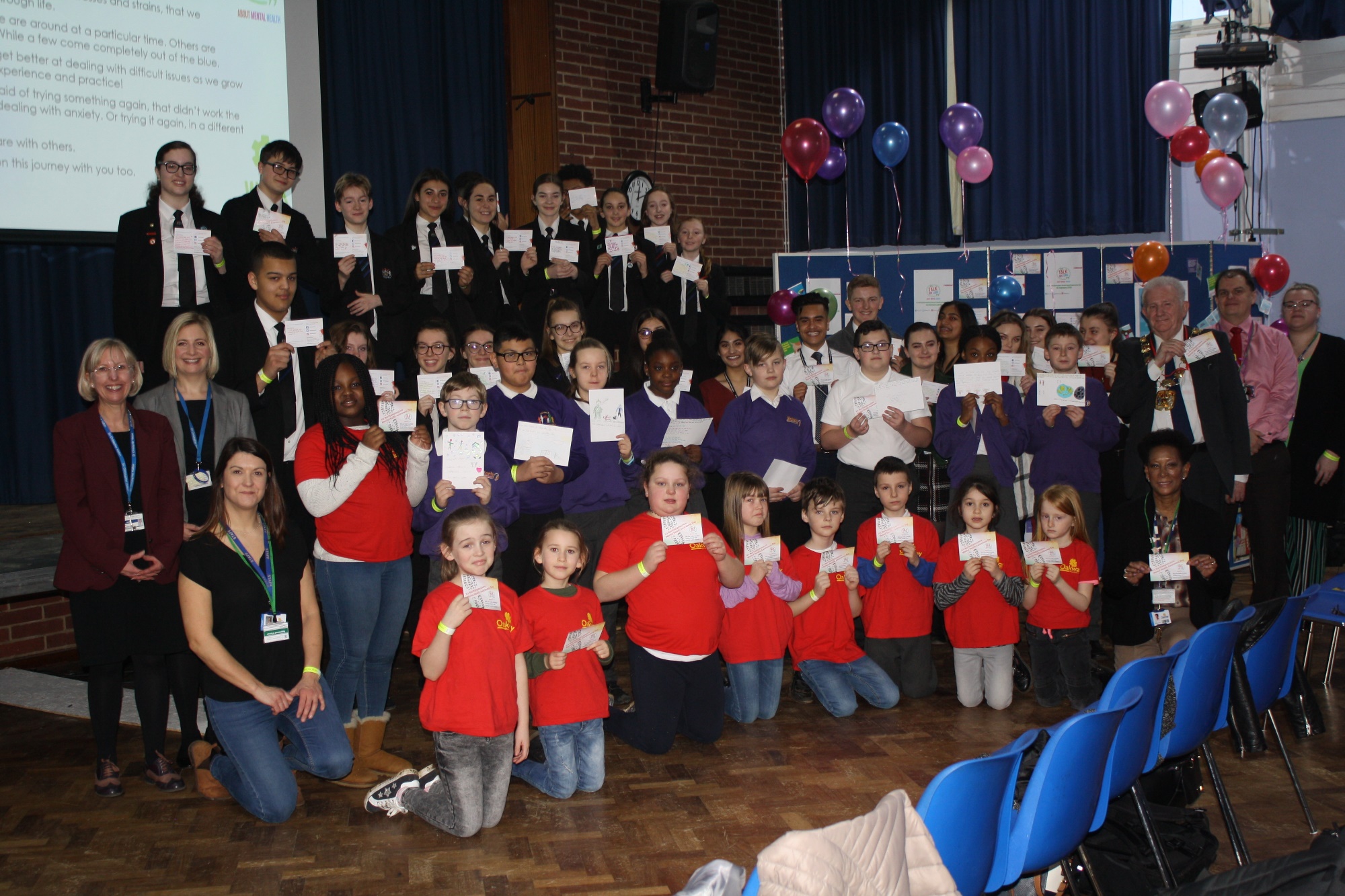 FUTSAL DISTRICT CHAMPIONS - February 2019
Well Done to the Year 8&9 Futsal Team...District Champions! Bring on the next round!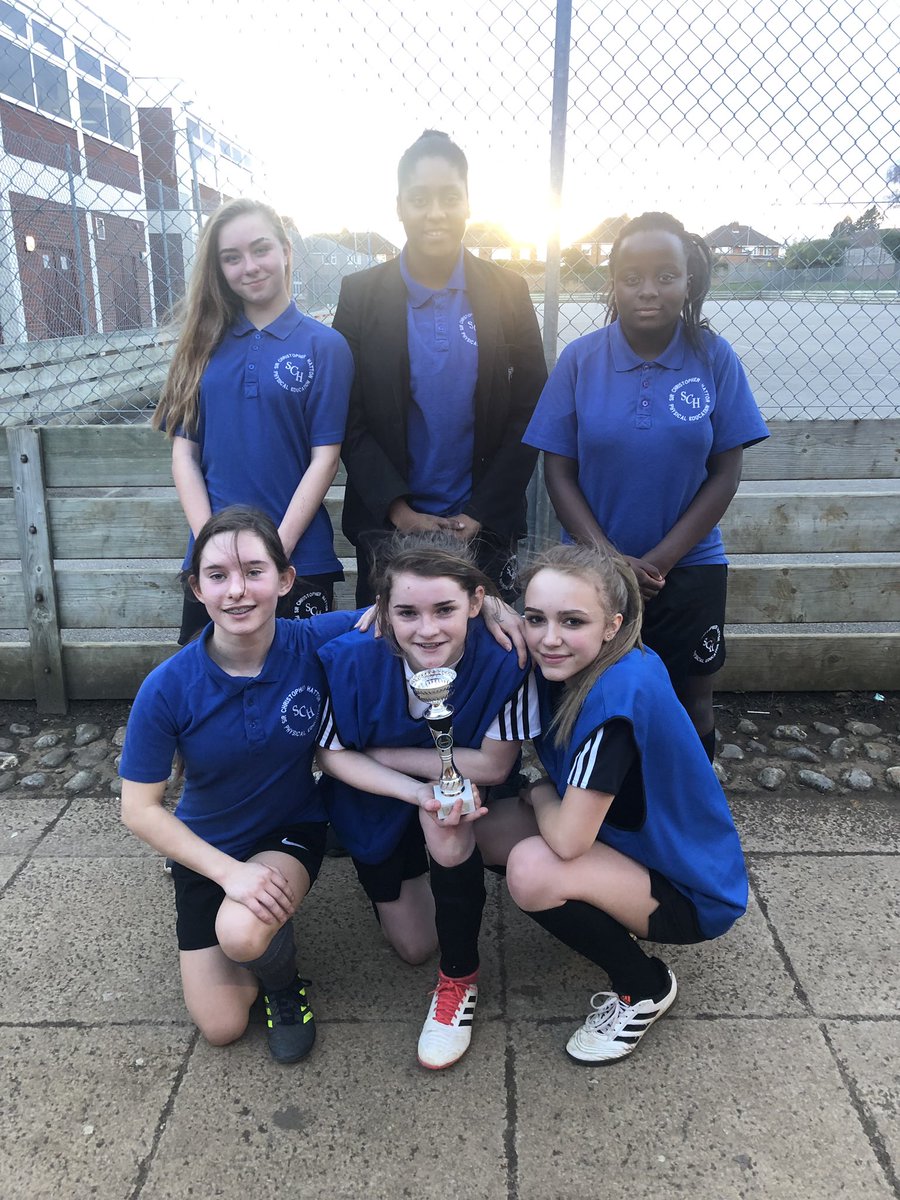 pe successes - january 2019
Well Done to the KS3 Boccia team who qualified to represent the district in Boccia at the @YourSchoolGames County Finals!
Well Done to all the Girls who took part in the @YourSchoolGames Futsal! Hatton were overall winners so go on to play @TheFerrersPE in the next round!
EXPANSION UPDATE PICTURES - January 2019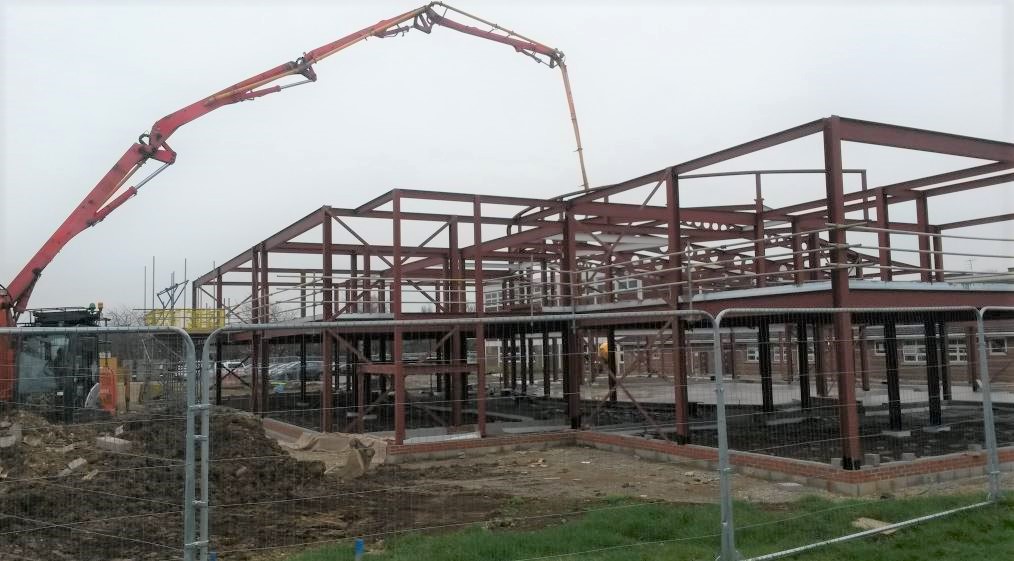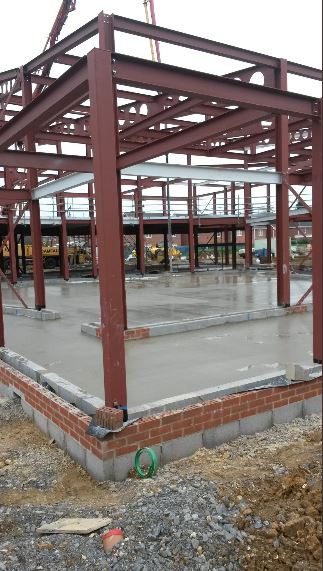 ncs BRONZE AWARD
Nigel Anderson, The Relationship Manager from the National Citizen Service congratulating Sir Christopher Hatton Academy and awarding Miss Jennifer Coe the Bronze Award in recognition of outstanding NCS achievement.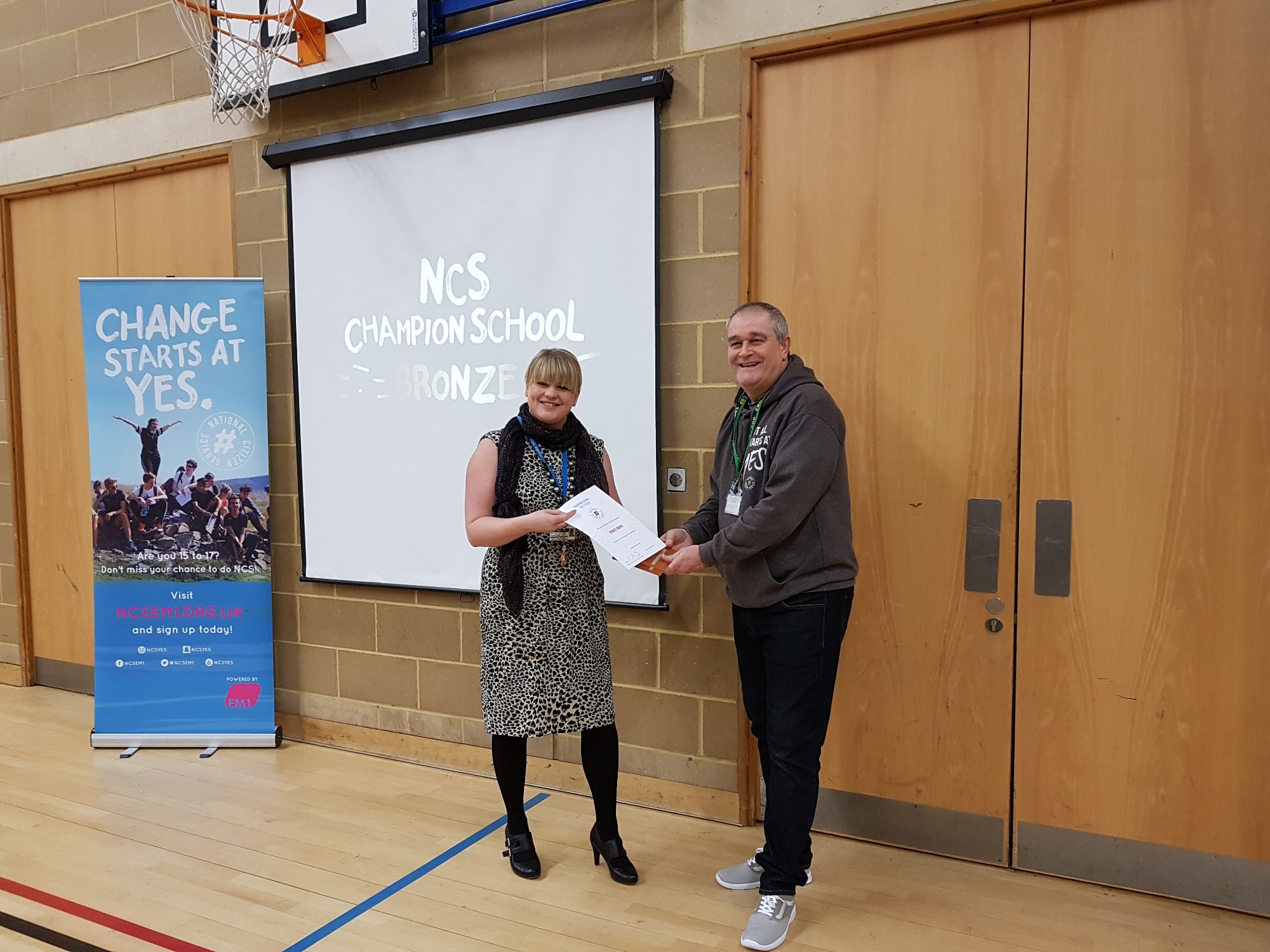 ANTI-BULLYING AMBASSADOR NEWS
We are really pleased to announce that we have been chosen by the Diana Award to be their Anti-Bullying Ambassador School of the Month for January 2019. This is a fantastic achievement as we have been chosen out of a pool of over 1000 active Anti-Bullying Ambassador schools!
Well Done to all involved in the project! Look out for a link to their Newsletter for full information at the end of January.
Expansion Update Pictures - 19th December 2018
It's beginning to take shape now...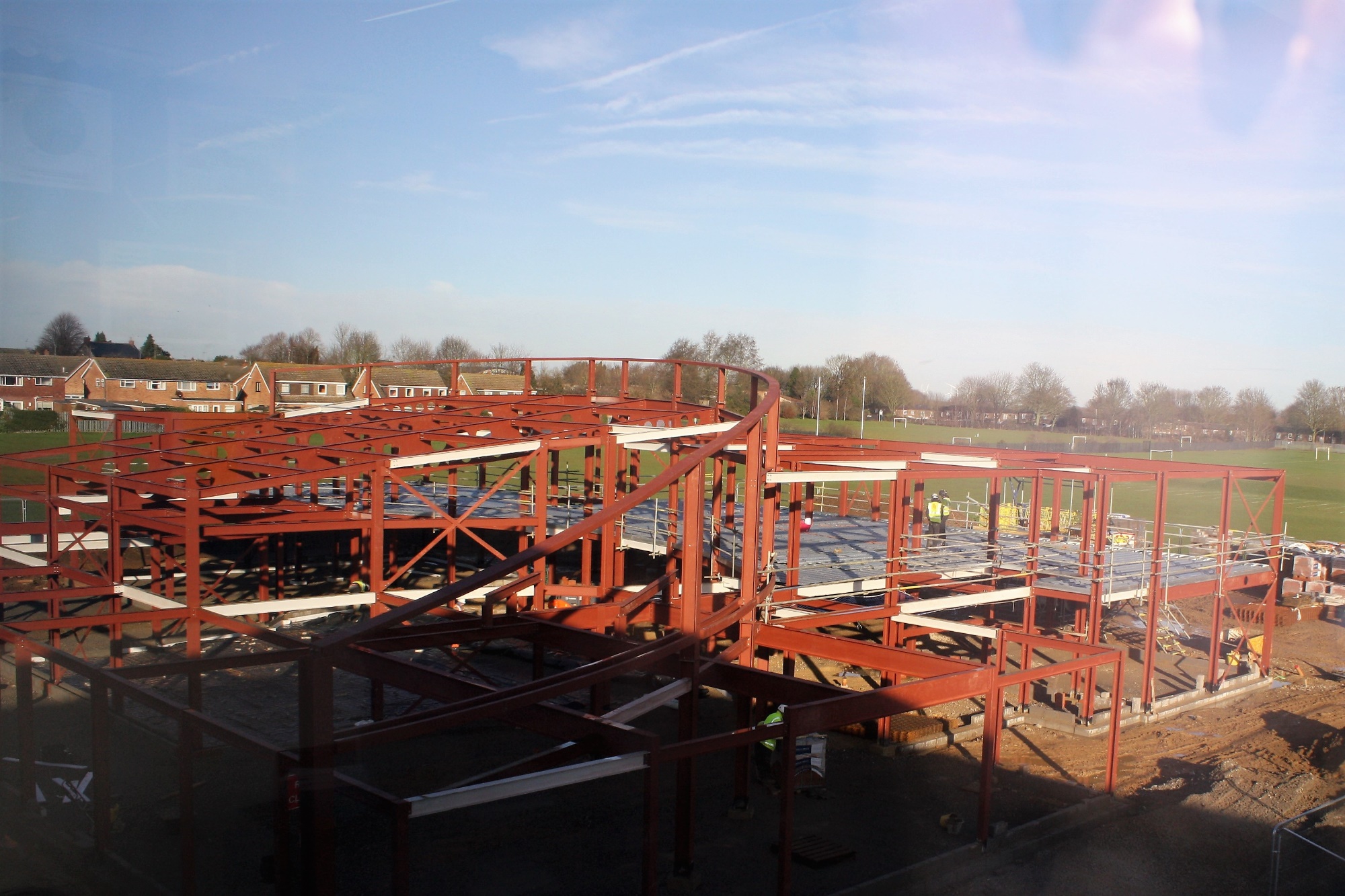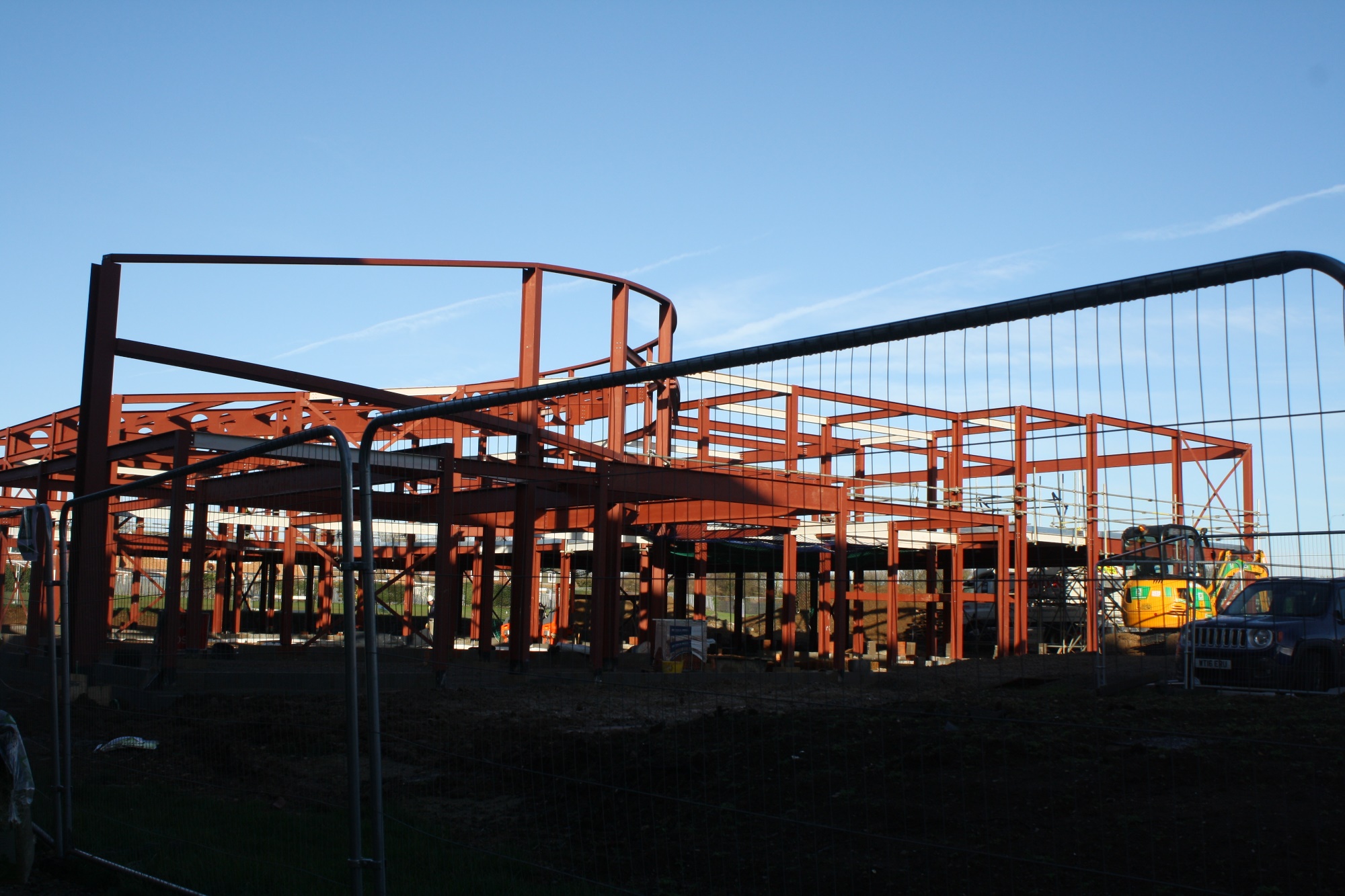 BIRMINGHAM CHRISTMAS MARKET
Our Year 8 students enjoyed a trip to the Birmingham Frankfurt Christmas market and practised their German. They also enjoyed some traditional food as well as purchasing typical German Christmas gifts.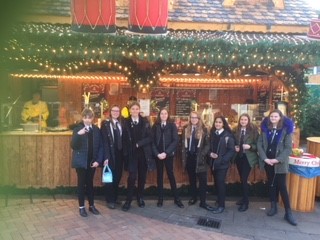 Our amazing Learning Resources Manager Nikki Evans has done it again! The Book tree is up in the library, along with Christmas themed books and activities.

Inspiring work in DT & Art. Year 7 mixed media art work based on Gaudi - December 2018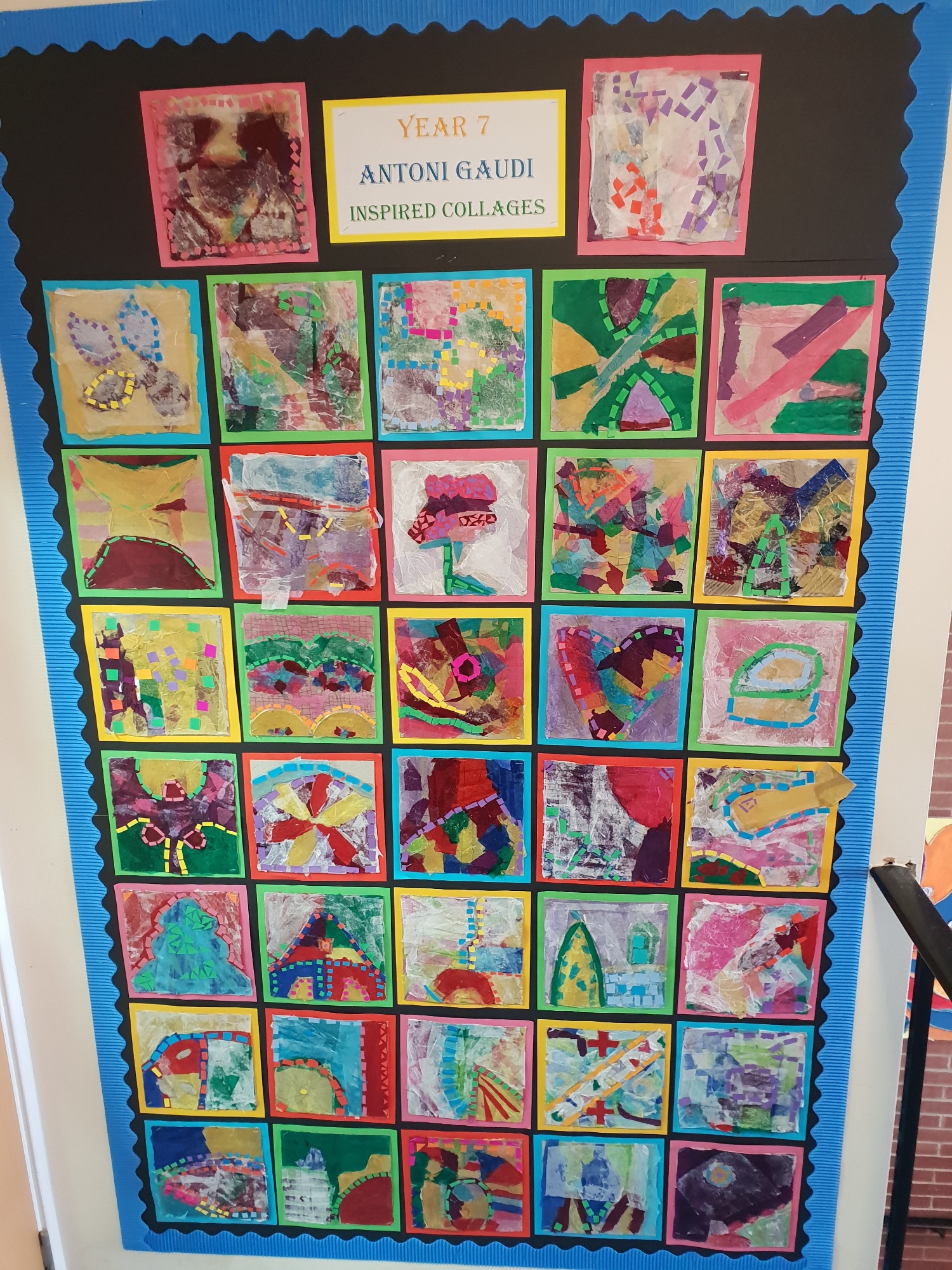 senior maths challenge - nOVEMBER 2018
VI Form students Rahul Jethwa, Tahlia Palmer, Jonathan Davies and Yassin Moktadir, accompanied by Mr Marston, recently took part in the regional final of the Senior Team Mathematics Challenge at Abbeyfield School, Northampton. They finished 13th out of 20. Well done to all involved and thank you to Miss Dewart for organising and Mrs Dutt for helping the students to prepare.
EXPANSION PROJECT UPDATE - nOVEMBER 2018
Assembly of the steel frame is now taking place for the new classroom block and lecture theatre!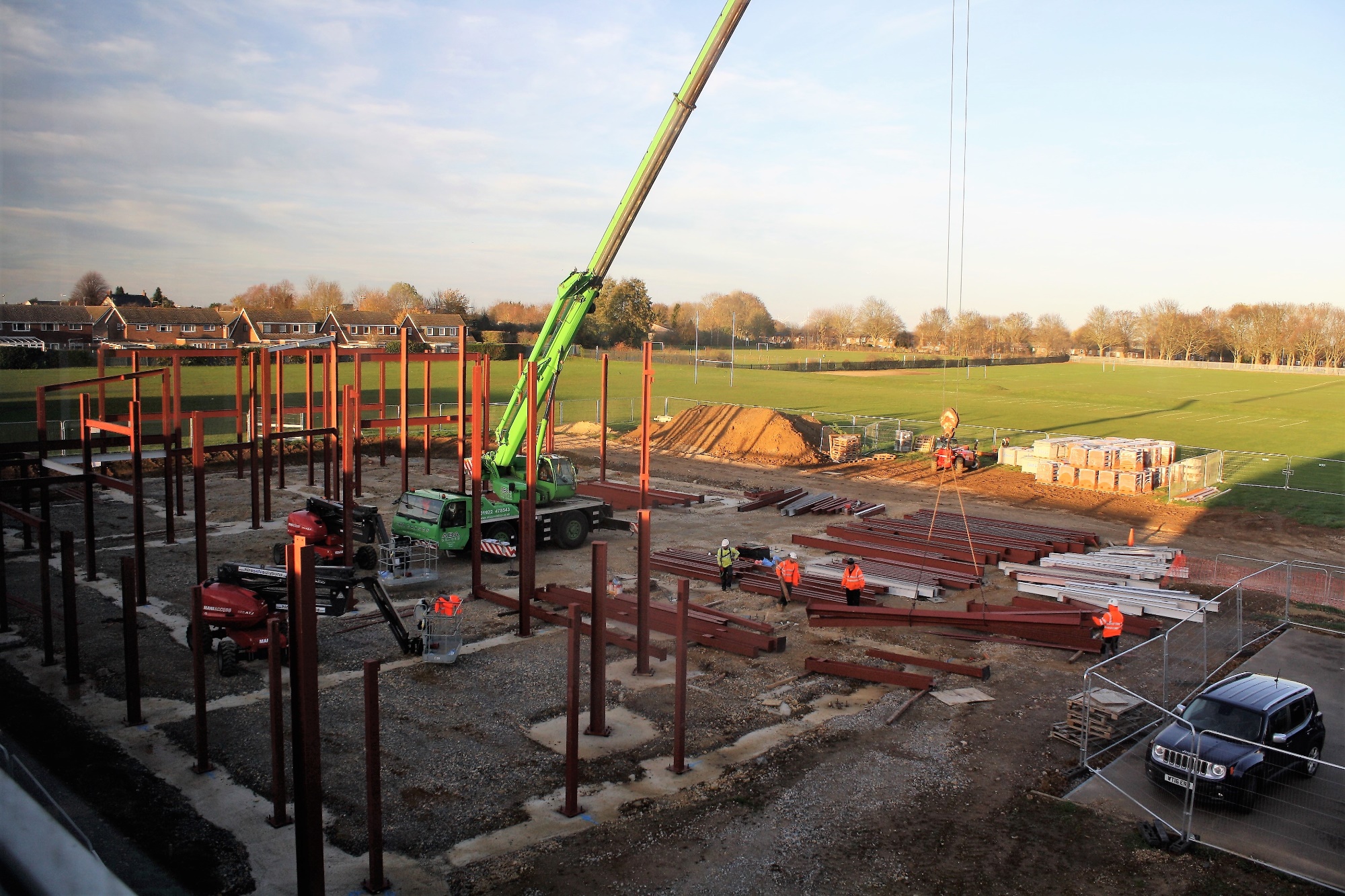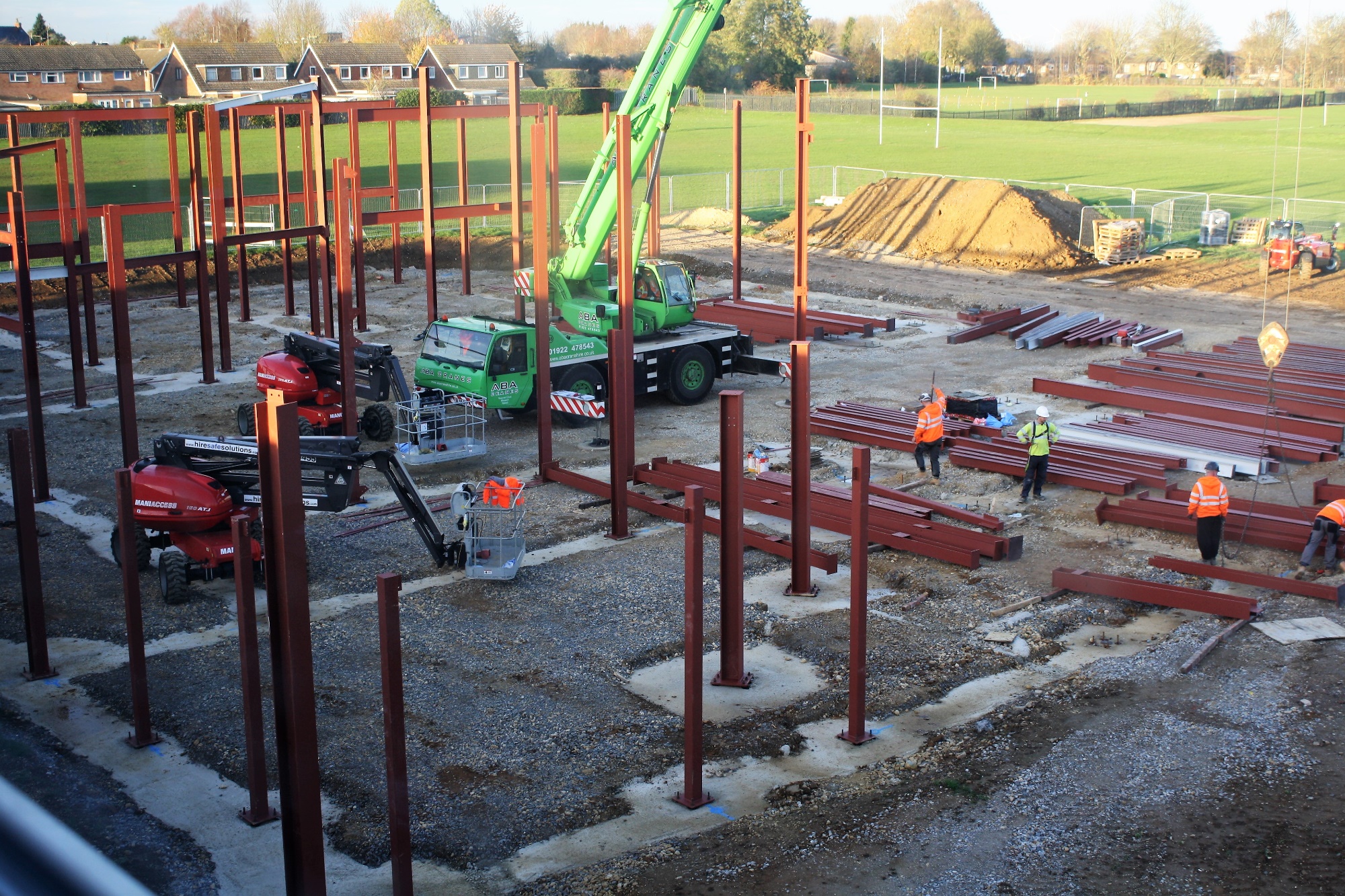 PE NEWS!
Our Year 10 Girls played in the District Volleyball competition and performed really well. They got better and better throughout. The girls came 2nd and are now through to the School Games County Volleyball Finals.
Our Year 7 football team played Wrenn away from home and won convincingly 6-0! They are currently unbeaten in the league with 3 games left to play in March.
Our Year 9/10 volleyball team played in the District competition finishing 3rd and only missing out on 2nd place by two points. They played really well with only having one training session!
Well Done All!
BIOLOGY ART COMPETITION
Please congratulate Lucie Arthurs (Year 9, 1st prize) and Noopur Mistry (Year 7, 2nd prize) for winning the Biology Art Competition. Lucie made some fantastic cell models and Noopur did a brilliant drawing. Well done Girls!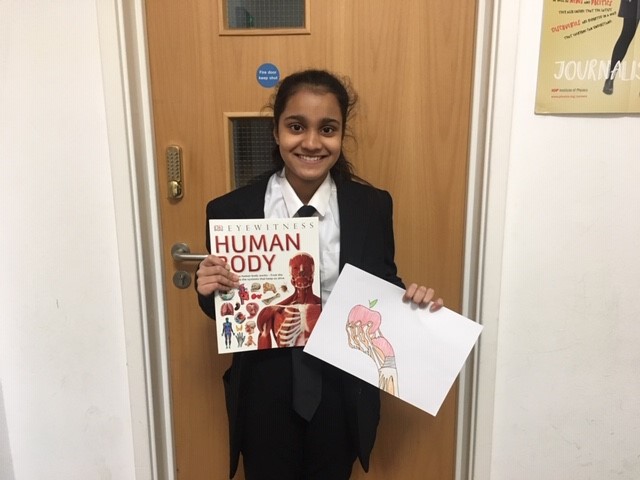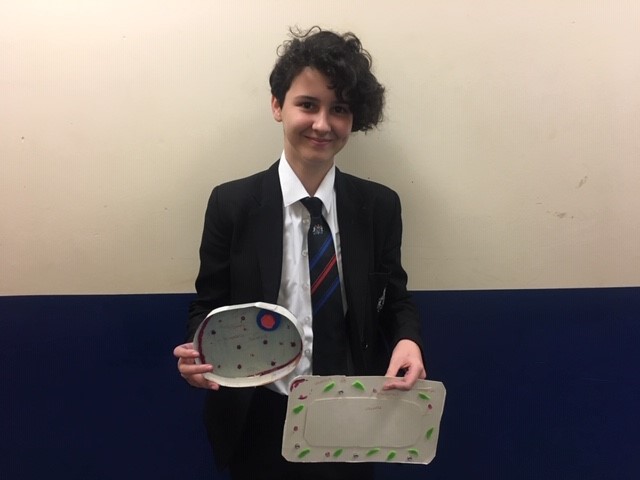 World Class School Award Assessment
Yesterday I had the privilege to be involved in the final assessment stage of the World Class School Award. I took 3 students (Harry McWilliam, Milan Pancholi and Yazmin Rashid) to Riverbank Academy in Coventry where they worked with 23 other schools from across the country in a series of apprentice style tasks followed by presentations to a 200+ audience. At each point throughout the day the students were individually assessed by trained, external staff and student assessors. It was a very long, demanding and challenging day. Our students were fantastic so please congratulate them! We await the results to find out if we have been successful!
Mr Atkinson
WEAR IT PINK week - w/c 15th october
A huge thank you to everyone who has supported this week, but the biggest thank you goes to our fantastic pupils for their pink outfits on Wear it Pink Day and for taking part in all aspects of the day.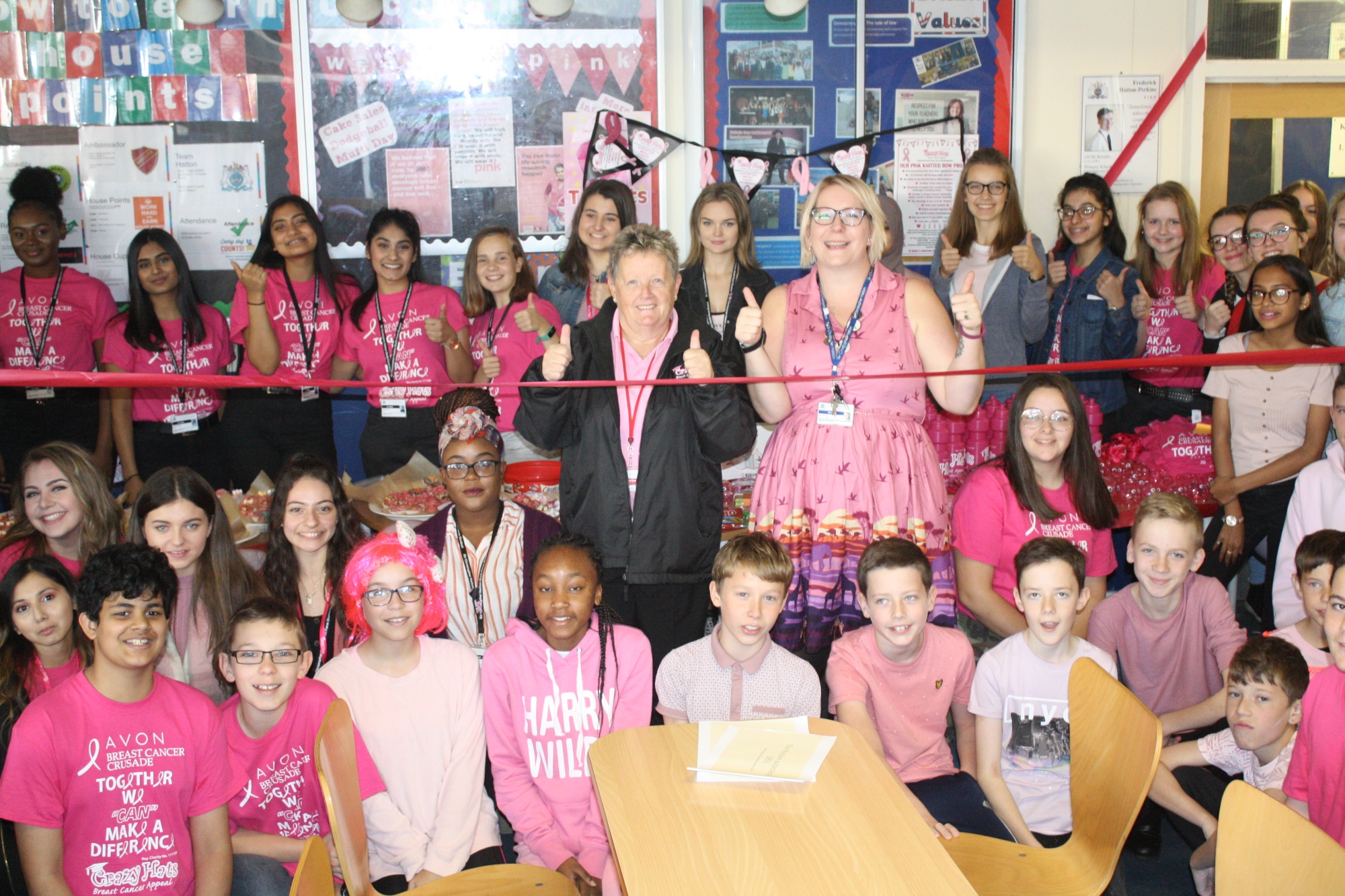 Our Year 11 and 6th Form students have been brilliant, helping every day to collect money, sell merchandise and make cakes until 5pm yesterday. A big thank you to all the staff that have helped out and have raised money by playing Dodgeball.
We raised a massive £2136.96! Well Done Everyone!
House Captains for 2018/2019
It gives us great pleasure to introduce to you the new house captain team. Mr Brookes and Mrs Heaney-Cox interviewed approximately 40 students and the following 16 were exceptional.
We are extremely excited to work with them over the next year. Please congratulate them if you see them!
BURGHLEY - Nika-Kare Pierre/James Batten/Olivia Camilleri/Kyra Naylor
DRAKE - Krutika Patel/Daisy Essam /Daanyal Hussain/Yassin Moktadir
RALEIGH - Amina Naeem/Anna Osborne/Leah Parris/Jamilah Moktadir
WALSINGHAM - Georgina Scott/Virat Patel/Tahlia Palmer/Roshni Patel
More information on the House System and House Captain Photos can be found here.
Science Club News
On Wednesday 17th October, the Year 7 & 8 Fun Science club students successfully completed a challenge to make Crunchy Foam and Microwave meringues. They were all amazing! These are some photos of the challenge.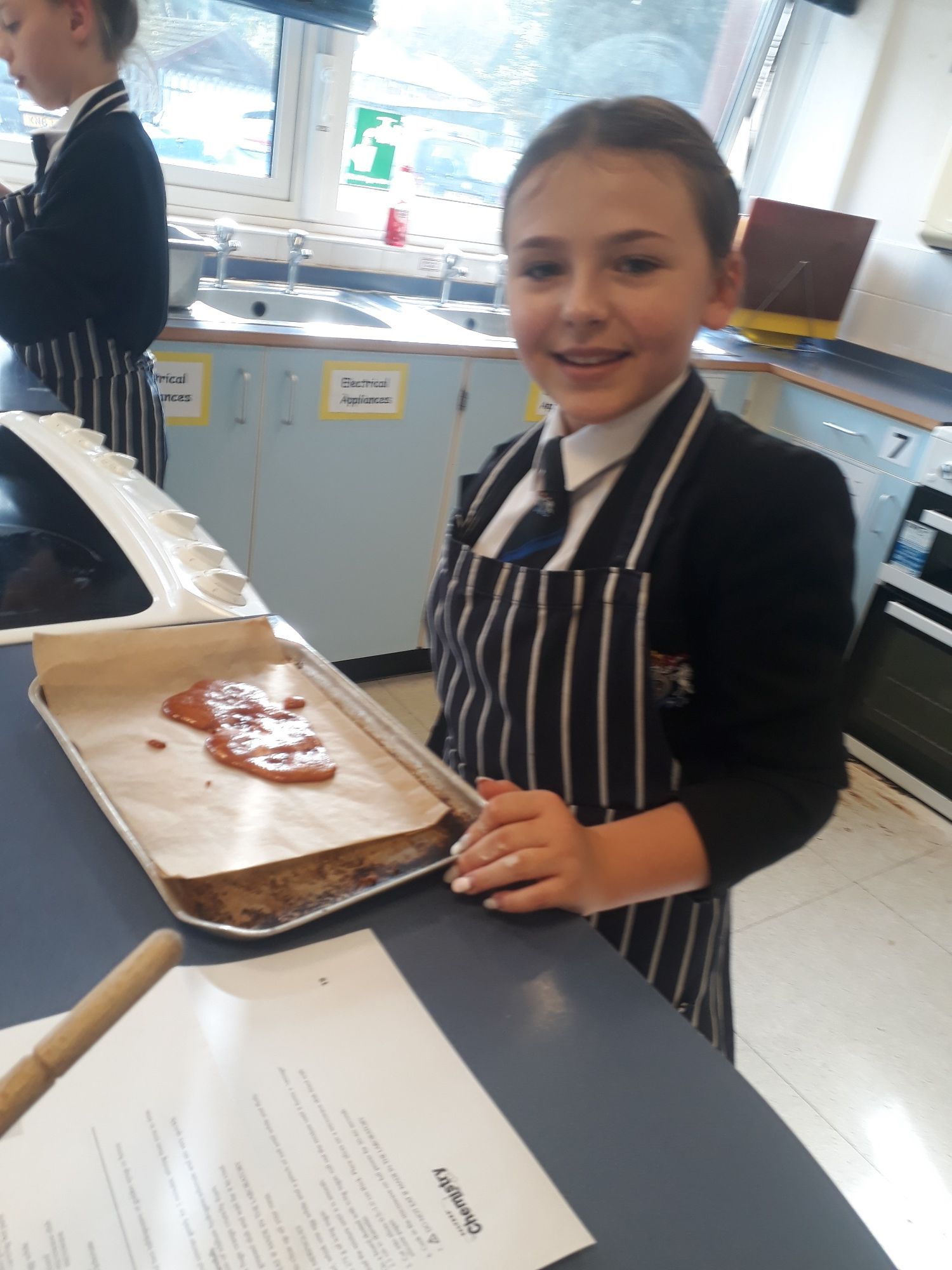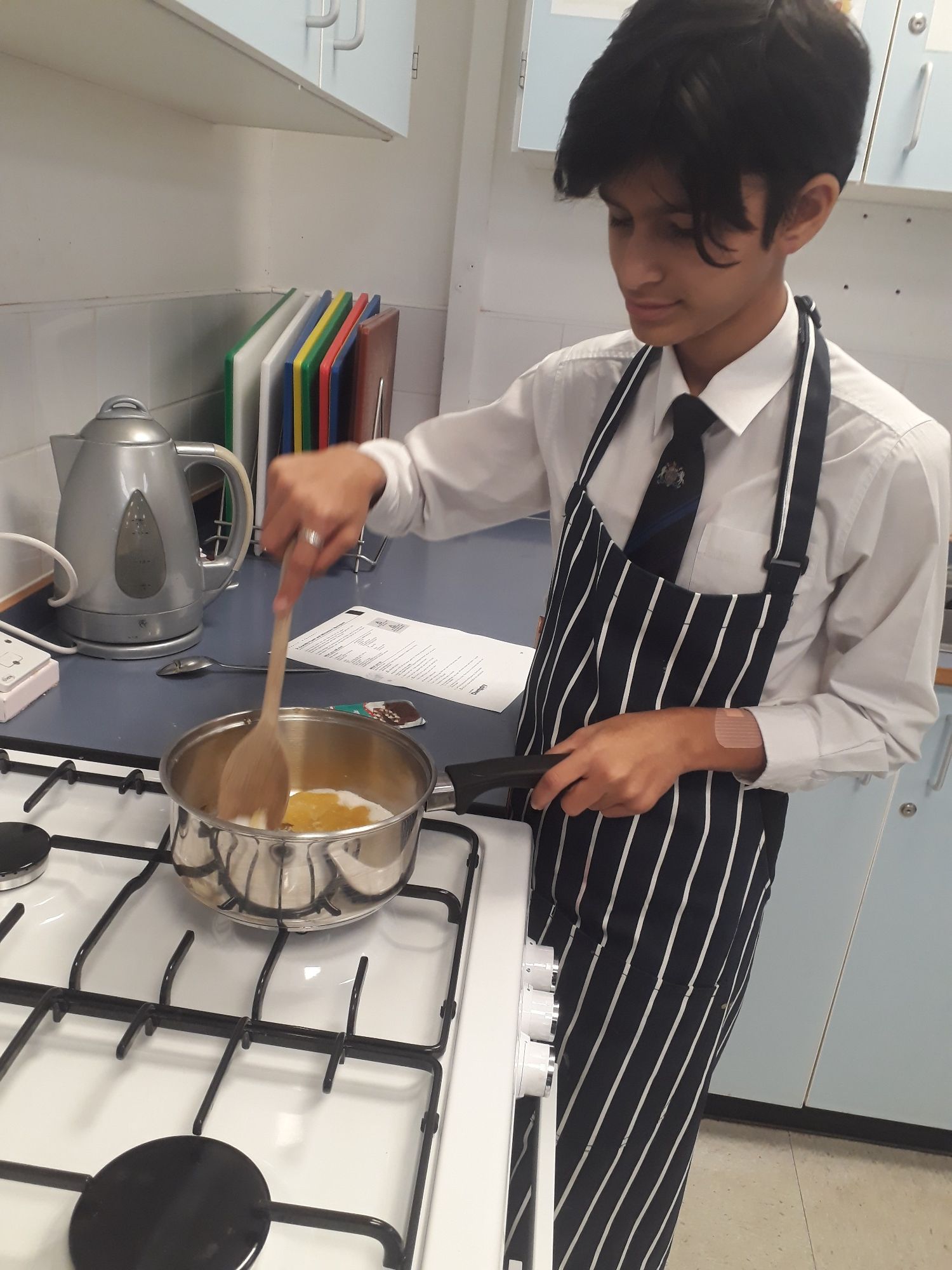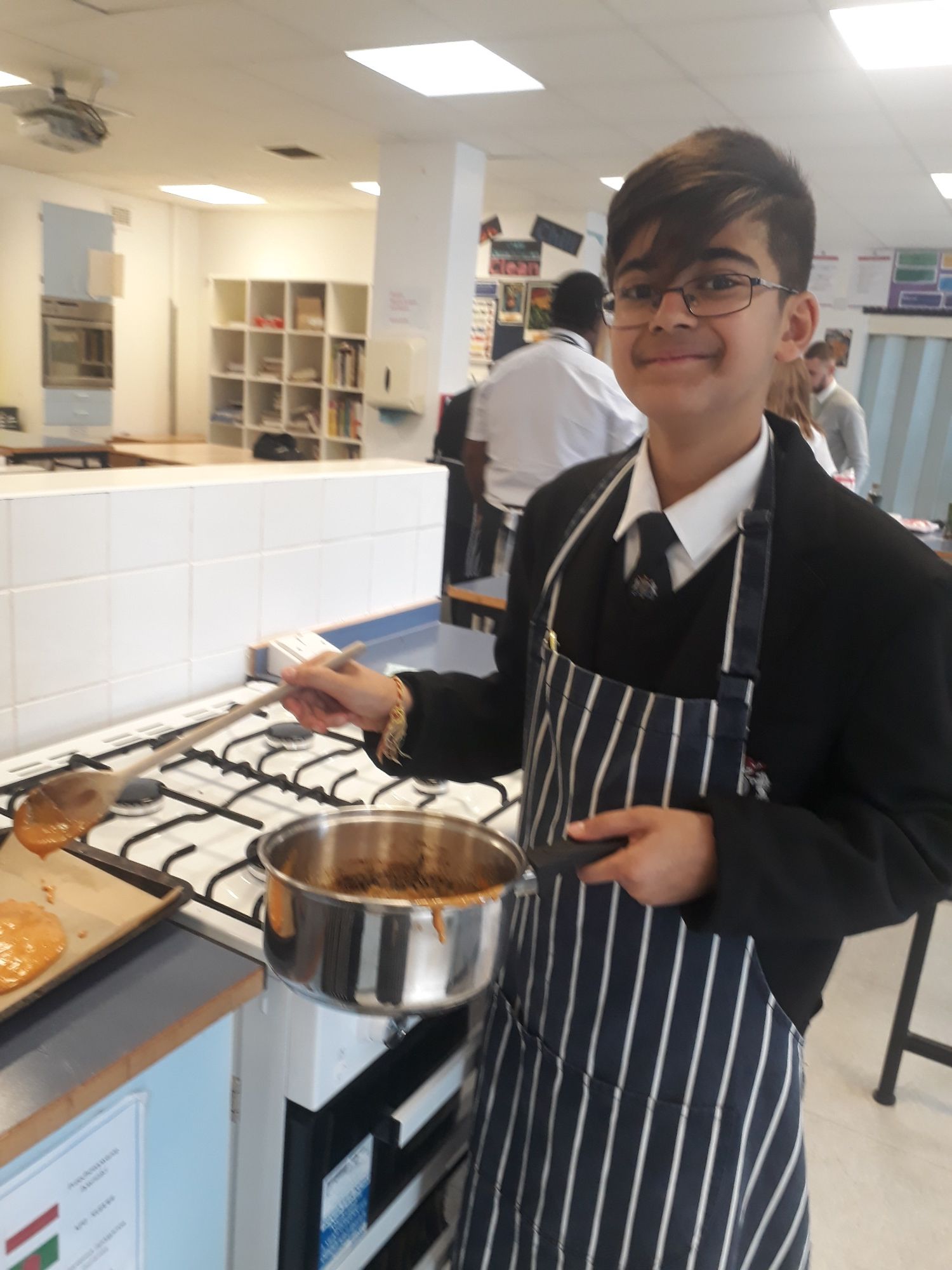 OUR EXCITING NEW EXPANSION!
Take a look at what is looks like now the foundations are in....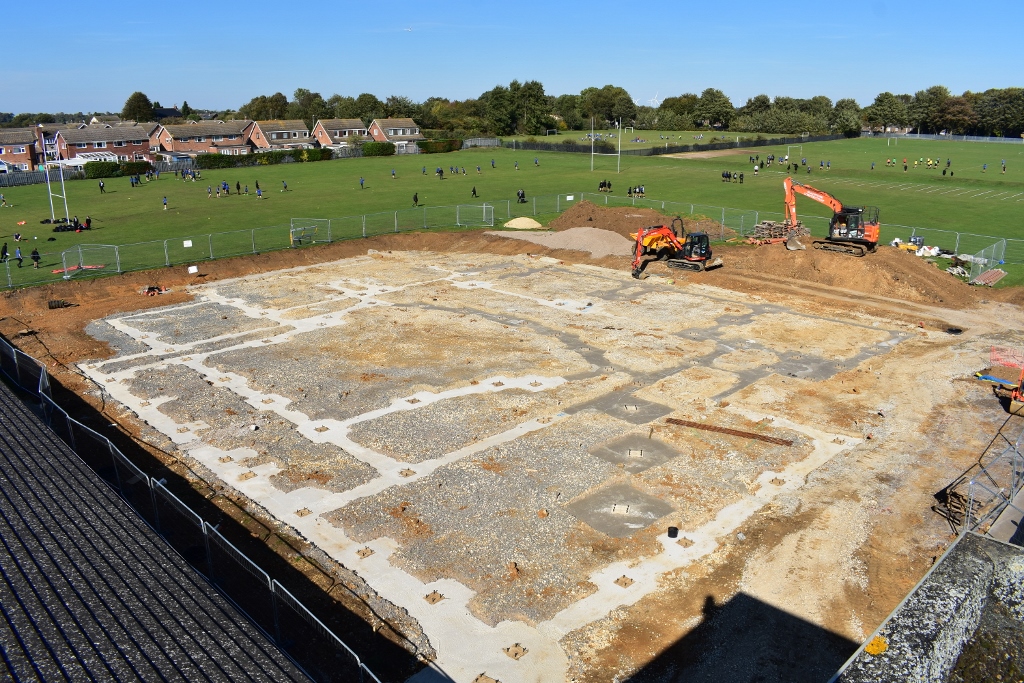 YEAR 9 & 10 nETBALL
Well done to our Year 9 Netball team who were undefeated in their first games of the season against Raunds Manor and Rushden. The Year 10's narrowly missed out losing against Raunds Manor by one goal and beating Rushden 11-0. Big thank you to Miss Slee and and Miss Duncan for all their help in preparing the students.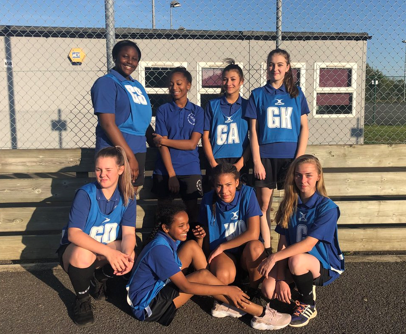 yEAR 7 FOOTBALL TOURNAMENT - 13th September 2018
What a great turn out for the Year 7 House football Competition today. 61 pupils from Burghley, Drake, Raleigh and Walsingham competed in a round robin event. Congratulations to Burghley and Drake who finished top with 11 points each.
| | | | | | | |
| --- | --- | --- | --- | --- | --- | --- |
| Position | House Team | Played | Won | Drawn | Lost | Points |
| =1st | Drake (Z) | 5 | 3 | 2 | 0 | 11 |
| =1st | Burghley (Y) | 5 | 3 | 2 | 0 | 11 |
| 3rd | Drake (Y) | 5 | 2 | 2 | 1 | 8 |
| 4th | Raleigh | 5 | 1 | 2 | 2 | 5 |
| 5th | Burghley (Z) | 5 | 0 | 3 | 2 | 3 |
| 6th | Walsingham | 5 | 0 | 2 | 3 | 2 |
Player of the Tournament and PE Ambassador of the Week: Caleb Chitenhe. Well Done Caleb!
PHYSICS ROADSHOW - July 2018
Last week, two of our students, Katie Gower in Year 10 and Punit Gajjar in Year 12, took part in the Physics Road Show. Along with students from Wellingborough school and Wrenn academy, they conceived, created and performed a one hour physics show for primary students around the area. They wowed the Year 5's and 6's at Oakway Academy, Little Harrowden school and Freeman's Endowed CoE school with lots of amazing physics demonstrations and hopefully got them fired up about studying science!
They did an amazing job and I was super proud of them, so I thought I would share their glory with the whole school.
If you see them, make sure to congratulate them on a job well done.
Miss Ellis
Regional stem day champions
Twelve Year 9 students took part in a STEM competition in Kettering. They competed in two teams of six in three rounds of activities that included building model pylons, creating jelly baby DNA and designing a race car. After some fierce competition, and some great work by both teams, I'm happy to announce one of the teams came away victorious and brought home a 1st place trophy!
Well Done to all the students involved!
Miss Ellis
ROUNDERS SUCCESS!
Our Year 8 Girls took part in a rounders tournament after school on 26 June and won so we are now District Champions!
The girls played really well, please congratulate them if you see them.
Alex Trusty

Alyssa Fairweather

Elise Ramoo

Thaomi Nguyen

Emmie Layland

SianLeigh Dunlop

Anisha Ghelani

Sophia Smith

Sehaam Abdirahman
J Johnson
Our Yr9/10 Rounders team have WON the District Rounders competition beating a very competitive Higham Ferrers in the final. They will now go on to represent the school and the district in the County School Games Finals on Thursday 5 July.
Please congratulate the following girls for a superb performance; Grace Youngman, Molly Hillman, Lucie Higgins, Rosie Percival, Grace Brown, Nikole Grante, Ariana Marcu, Anusha Thakrar, Judith Ipinge.
M Hawkins
ALZHEIMERS SOCIETY CUPCAKE SALES - 13/6/2018
Well done and thank you to our staff for their support with the Alzheimer's cake sale. We had a huge amount of homemade cakes donated by staff and we raised an amazing £150 in sales for the Alzheimer's society!
Many thanks to Miss Slee for organising the event!
NETBALL SUCCESS! - 07/06/2018
Our Year 8/9 Girls Hockey team attended the District Finals on Thursday 7th June and came out Winners beating Raunds Manor 4-0 to take the title! They will now go on to represent the school and the District at the County School Games Finals on Thursday 5th July.
Please congratulate the following students when you see them;
Elise Ramon, Molly Hillman, Karolina Kaminska, Lucie Higgins, Grace Youngman, Rosie Percival, Grace Brown, Anusha Thakrar, Maisie Rees
Thank you, Mr Hawkins
D of E Expedition
During the May bank holiday weekend 9 students, all but one direct entrants to DofE Silver, experienced extremely warm conditions for their practice expedition in the Peak District. The views were sublime.
The teams tackled some very difficult navigation over three days and despite the hot weather their spirit was among the best I've ever seen. The meals they cooked and their teamwork was simply superb!
Our Authorised Activity Provider enthused about the teams and hopes they'll tackle Gold after their Silver assessed expedition on the Yorkshire moors in a month's time. Each and every one of the students should be very proud of themselves, the DofE team are certainly very proud of them.
Year 9 & 11 GUEST SPEAKER ASSEMBLY - 26/4/2018
Students in Y9 and Y11 were wowed today by a presentation by Ash Routen who has recently returned from trekking across the frozen surface of Lake Baikal in Siberia, Russia – a 400 mile trek which is the equivalent distance of walking from London to Edinburgh.
He explained to students how he camped on the ice each night, covered distances of up to 26 miles per day carrying all of his equipment in a sled behind him in temperatures of up to -35OC and coped with the threat of bears and the dangers of ice that could break at any moment revealing the freezing waters below. The students were encouraged to take steps to achieve their dreams and watched a short video showing some of the things that Ash experienced on his epic journey.
MATHS CHALLENGE
On Friday 20th April, I took four students to represent Hatton at the Team Maths Challenge.
The students were Kian Patel and Madison Hawkins in Year 9 and Kacper Michalik and Anisha Ghelani in Year 8.
After four very challenging tasks, the Hatton team managed to achieve their highest ever position in this competition, coming 4th out of 22 teams!
It's worth pointing out that our team scored higher than many other private and grammar schools!
If you see any of the students this week, please give them a massive congratulations and make a big fuss over them!
Mr Young
duke of Edinburgh bronze Practice EXpedition
In April, 5 teams of Year 10 students arrived at Sywell Country Park looking a bit apprehensive and with parents worrying about the size and weight of their packs.
With the clouds parting and the sun shining, the intrepid young people headed to Grendon for an overnight stop and then onto Podington after a total walk of some 26-30 Km.
The trip was only possible due to the tremendous support and enthusiasm of Mr Shackleton, Mrs Blake, Mr Kneeshaw, Mr Jeffs, Miss Berrill and Miss Stevenson and last but not least Mr Gibbs. These dedicated and inspirational people, some on their own first DofE event, led the teams under the watchful eye of 3 instructors from our activity provider First 4 4 Adventure. I am in awe of their dedication.
Please congratulate the following students if you get a chance.
Team 1 - Aidan Youngman/Aliya Hussain/Erin Saddington/Jiyon Thomas/Natasha Trivedi/Neha Dholakia/Harry Ellis
Team 2 - Edward Swain/Bryn Swain/Sanjay Patel/Morgan Brown/Will Downer
Team 3 - Matthew Antone/Dhruti Mendon/Kireran Patel/Neeraj Patel/Gidloria Allotey/Shiv Dhanji/Sara Desai
Team 4 - Rebecca Molloy/Hannah Burwell/Lacey Pulley/Kinga Stusii/Ushika Thanki
Team 5 - Sean Green/Callista Quadling/Hayden West/Katie Gower/Christopher Price
Mr Mason
Kickboxing Championships
A Massive Well Done to Elise Sparham who recently represented England at the WKC World kickboxing championships in Portugal.
Winning 3 Silver, and 2 Gold making Elise Double World champion. Gold 1 was won in the team event; Gold 2 was won at 50 kg continuous fighting. Elise weighed in at 39kg.
On Saturday the 11th of November Elise will be undertaking an instructor's course; this will make Elise the Youngest Female coach in the BCKA (British, Chinese, Kickboxing Association)
Elise will also be grading for her brown belt on Saturday 25th November.